For our honeymoon we will be spending 3 nights in Rome and then departing on a 12 night cruise of Greece and the Eastern Mediterranean. We're hoping to do a day trip to Florence during our time in Rome since we've been there before.We used miles and will be flying Business Class on British Airways.
Originally I was very turned off by the idea of a cruise. FI and I are big travelers and love road trips, backpacking, etc. But after our last trip to Europe a cruise seemed like a great way to travel, especially in Eastern Europe, without the headache. I can't wait to explore all of the amazing stops.
FI and I will return to our favorite location for one of our anniversaries, probably 5 year.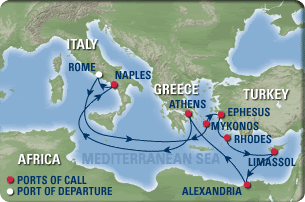 Itinerary
15-Jun Civitavecchia (Rome), Italy
16-Jun Cruising
17-Jun Mykonos, Greece
18-Jun Kusadasi (Ephesus), Turkey
19-Jun Rhodes, Greece
20-Jun Limassol, Cyprus
21-Jun Cruising
22-Jun Alexandria, Egypt
23-Jun Cruising
24-Jun Piraeus (Athens), Greece
25-Jun Cruising
26-Jun Naples, Capri, Italy
27-Jun Civitavecchia (Rome), Italy 4:00 AM
Comments
10/01/2010 at 12:48 pm

SOOOOOOO jealous! What a bitchen itinerary!