Here are my save the date cards! We got one side glossy the other matte, 5x7 front and back card from etsy seller designink for $1 each. She even added envelopes and ten extras for $10! Im so pleased with the quality because the paper is nice weight and the images are super clear! I will update with pics once we have them addressed and zazzled stamped! Here are the final proofs from the designer!
UPDATE: THE STD'S ARE OUT THE DOOR AND TO THE MAILBOX!! I was gonna post pics but i didnt know how to not show the address. I dont want no idiot stalking people lol. we did clear labels on our new canon printer and finished it off with a zazzle stamp! I didnt mind doing clear labels for the STD's but i want to actually print on the envelope when the official envelopes go out!
IM SO EXCITED THE FIRST STEP IS DONE AND THEY CAME OUT SUPER NICE! IM SO IMPRESSED!!!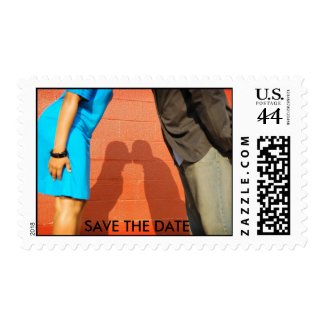 Comments
06/09/2009 at 08:58 pm

they look great! congratulations!
06/15/2009 at 12:36 pm

Love the stamp!! That's so cute!!
06/15/2009 at 12:58 pm

LOVE your STD!!! Its so cute!!! :)
06/15/2009 at 04:22 pm

One of the cuuutest Save The Dates I've seen!! They came out great!! Love the stamps, too, nice touch!!
06/25/2009 at 06:08 pm

LOVE those girl!! Looks so great!
07/05/2009 at 05:00 pm

They are so cute! Congrats!
07/26/2009 at 10:56 pm

Love your e-pics and especially love the stamp!
07/30/2009 at 05:01 pm

lol thanks to you jackie! everyone loves that pic!