I've been lucky enough to be able help out a some fellow PWers with maps for their wedding invitations. Website URLs have been changed, obviously.
My technique is pretty straightforward. I trace over a Google map in Adobe Illustrator and then use colors and fonts that match the wedding invitation. Some maps require a second little map to make sure that all of the major freeways are acounted for. The way I do things is simple: I create the design, send you multiple drafts, make any changes you'd like, then send the final in a .pdf format. The printing, cutting and assembly is up to you.
Some examples of maps I made for PW members:
The back of this map listed the addresses for the hotels marked on the map, and a link to the couple's website.
---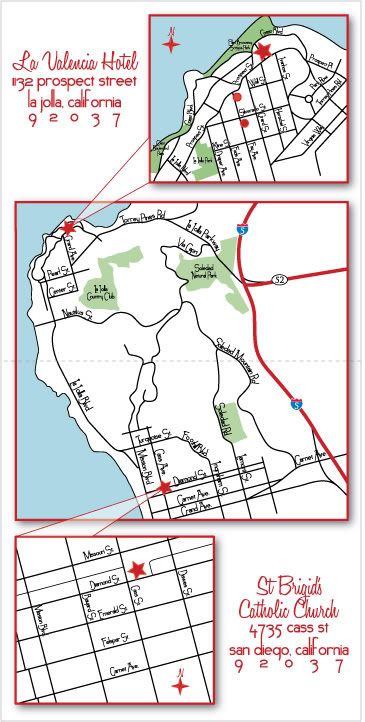 This bride's map posed a challenge because of the distance between the two sites. We couldn't squeeze it onto a 5x5 card because the street names would become too small to read. So we made a map that folds in half, the finished size is 5x10, with some hotel and valet info printed on the back.
UPDATE: She's changed the map a bit as it will be letterpress printed. Love the new fonts.
---
This map was one of three maps created for this bride. Her monogram was shown faded in the background on each one. (I didn't create the monogram) Each map was printed on the back of the invitation to each event for her Indian wedding. One for the church ceremony, one for the Indian ceremony, and one for the reception. Nifty idea!
---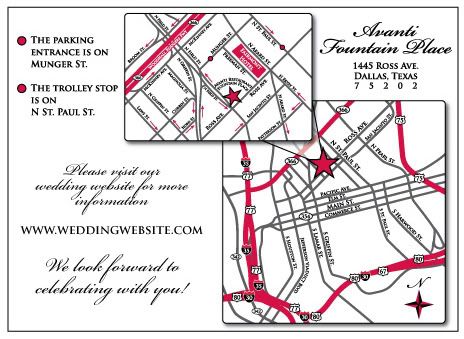 This map had hotel information and a URL to the couple's wedding website on a separate card in their pocketfold invitations.
---
The finished product of this map was in grayscale.
---
It's also a good idea to include any parking information if it's not totally obvious where to park. This map needed to let guests know that they were going to have to sign in at the gate.
---
We subtly incorporated the monogram that the bride created here. This was printed on ivory paper to coordinate with the invitations.
---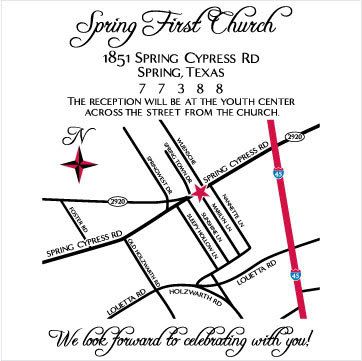 This map was double-sided with a list of hotels on the back, along with the URL to their wedding website.
---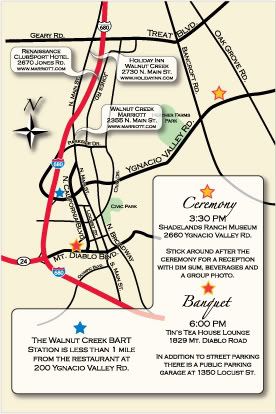 The map from my wedding. We put hotel information and our website URL on the back.
---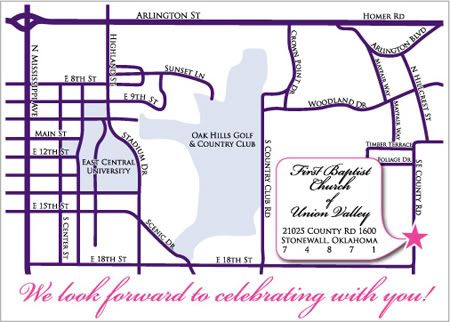 Lot's of fun incorporating the bride's color scheme. ;-)
---
Some invitations created for fellow PW members and some that I did on my own:
You can see more current projects on my vendor profile:
http://www.projectwedding.com/vendor/show/design-illustration-by-alex
Thanks!
Comments
10/08/2008 at 03:37 pm

Hi... I am pretty decent with the computers generally speaking but SUCK at maps... will definately be asking for you assitance... they look great! :) Mercy
01/09/2009 at 04:19 pm

Alex, thank you again for doing such a wonderful job on our invites. I have gotten nothing but compliments since we sent them out. You are amazing! :)
01/09/2009 at 09:36 pm

Just have to say that your work is AMAZING!! :D
01/20/2009 at 01:54 pm

Thank you so much Alex, Our invites look exactly how I wanted them to. Thanks again.
01/26/2009 at 05:54 pm

Wow, you are SO creative and talented!! WE are VERY lucky to have you :).
01/29/2009 at 02:59 pm

When the time gets close, I'm going to need you around..you truly are great at this!
04/08/2009 at 02:12 am

YAY!!!! i have a feeling your art will be blogged soon ;-)