The contenders:
Mori Lee 6171 - I couldn't find a shop that had a sample of this dress. This was my original dream dress.
Jasmine T236 - Loved the draped straps on the back and trumpet skirt.
Justin Alexander 8441- Again, I couldn't find a sample to try on.
Maggie Sottero Pamela - Another one that I couldn't find a sample of. Love the ruching and the collar.
Unique Vintage - Starlet Dress
David's Bridal SML9790
N9781
EW9848
Alvina Valenta - It's a bridesmaid dress but it was so pretty!
AND THE WINNER IS... Maggie Sottero - Loren!
I found the dress of my dreams but it was not the color I really wanted: BLUE! So I found someone to make it for me.
I used Smart and Swanky. My dress was pefect! I only had to have some minor alterations that only cost about $100 including the bustle (I had lost weight since my order was placed). The beading was gorgeous and the color was exactly what I wanted. They have a few pics on their website of other replicas they've done and they look great.
Mine took about two weeks more than what was originally quoted so allow a little extra time (I think that's pretty normal for all dress makers.) Cassandra was really responsive and easy to work with.
They say they like to work with low maintenance brides but I think that just means that they like to have an easy working relationship with you, and I think you have to be an easy going person to order a dress over the internet. I asked a ton of questions and they answered every single one and never made me feel like I was being high maintenance.
My experience with them was fantastic! Unfortunately, their websiteis now offline and their phone number has been disconnected so I am assuming they are no longer in business. :(
Here is the inspiration dress: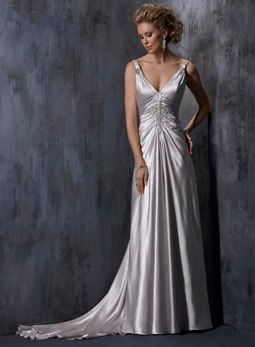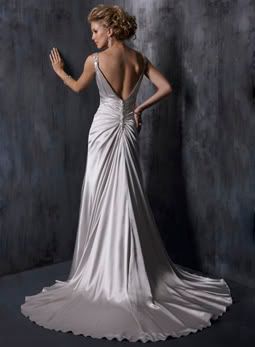 Here is my dress (I hope to have more pics soon)!
Front
Back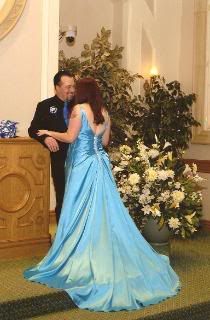 Detail
Comments
02/04/2010 at 04:19 pm

Wow they did a great job recreating the Maggie Dress!
03/05/2010 at 03:32 pm

I love a dress with color!
03/05/2010 at 04:19 pm

I love that you went with a blue dress! So original! And it's beautiful! :)
05/13/2010 at 06:53 pm

They really did an amazing job!
05/19/2010 at 01:58 pm

You look beautiful in blue darling! :)
04/05/2011 at 12:46 pm

I didn't know that your inspiration was a Maggie dress!! You're pretty much a Maggie bride too then ;) I'm OBSESSED with the back of your dress. It's so pretty and flattering! I actually bought a dress for the ball and the back was very similar. Stunning!!!