The Engagement
Last updated on April 30, 2014 at 12:11 pm
|
In July 2007 Chris and I decided to celebrate our 1st 'date' anniversary with a vacation to Canada. We spent the first week visiting his friend in Toronto and then flew to Edmonton to spend a couple of weeks with my sister and her family (they had moved from England the previous summer).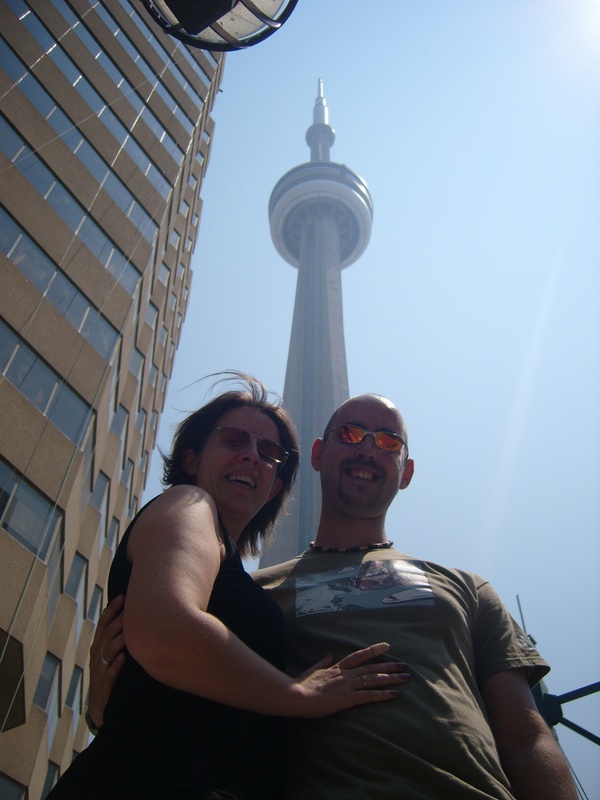 CN Tower    
 Niagara Falls
While we were with his friends he got a lot of stick from them about how they thought I was 'the one' and that he needed to step his game up and propose - one of them picked me up and carried me into a jewellers and told Chris that as I was already in there we may as well buy a ring!  We laughed it off (marriage was never something we had agreed wasn't necessary, we were happy as we were).
The time came for us to leave Toronto to head to my family.  We were checking in at the airport and Chris was told that his carry-on bag was too heavy - no big deal right? Well Chris got stressed...really stressed....something that NEVER happens. I just stood staring at him thinking 'I can't believe I'm taking him to spend time with my family when he's being such an ass!'.  Well, we got the flight and all was good for the next few days with my sister.
We all took a trip to Jasper. Chris had never been there and it is, without a doubt, my favourite place on the planet.  On the drive down I told him all about the family vacations we had there as kids, and all my fave places that I wanted him to see.  Day 1 was great, lots of sightseeing and a great meal with my sister and her family.  Day 2 we were heading out to my favourite spot - Maligne Lake - I was so excited to be going back there.  We woke up and from the first second I knew Chris was in a bad mood, he was very snappy with me and was just 'scrunchy'. I was MAD!!!!!  On the drive up to the lake I moaned to my sister about his crappy attitude and how he wasn't being himself on this trip (one of his greatest qualities is his laid back attitude, he rarely gets upset).  She reassured me that he was probably just tired and maybe a bit hung-over from the night before.
When we arrived at the lake my sister, BIL and nephews wanted to grab a snack so Chris asked if we could go for a walk alone.  I agreed even though the last thing I wanted to be doing was spending 'alone time' with him!  We walked for a couple of minutes before stopping at a beautiful spot to enjoy the view.  I decided to get everything off my chest about how he'd been behaving but before I could say anything he kissed me.  I turned away to compose myself for the difficult conversation and he put his arms around me.  He started talking about how much he loved me, and how sorry he was that he'd been grumpy that day. He then said it was because he was nervous and didn't know what was going to happen.....yep, confused much??  He asked me to turn around and look at him and when I did he was holding a ring !!!  Lots of lovely romantic words later and we were engaged!
 On top of Whistler Mountain (with Jasper town in the background)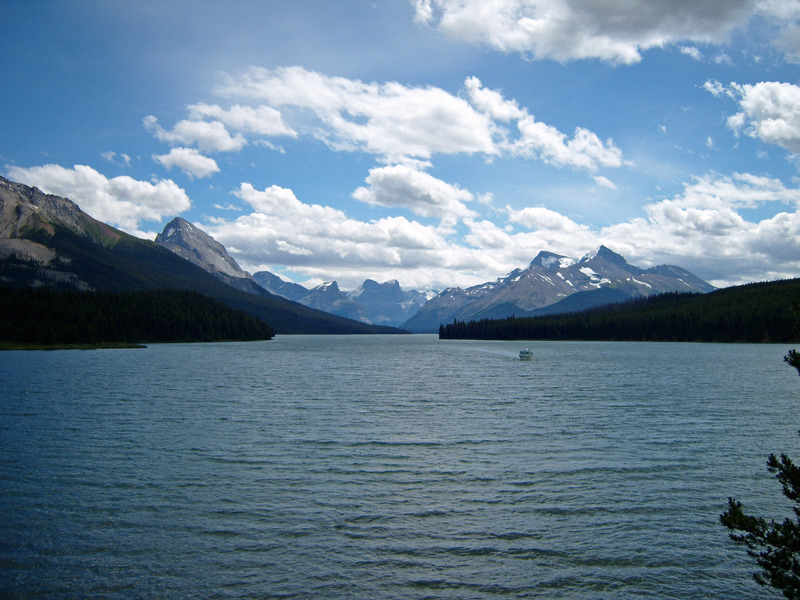 The proposal spot (this is also where we had the speeches on our wedding day)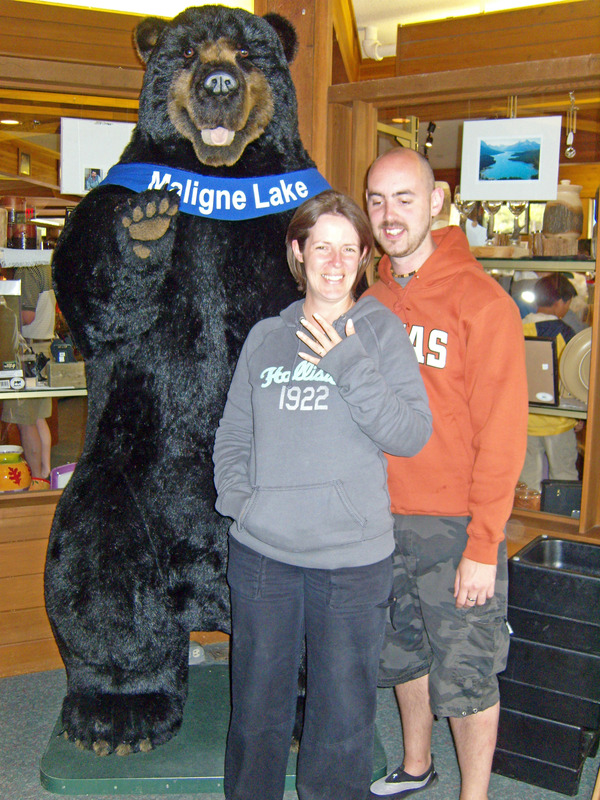 Our first photo as an engaged couple!!
We went back to find my family and celebrated with a bowl of chilli before calling all our family in England to tell them the news (no Facebook for us back then!!)