For Sale after 10-09-10
Last updated on June 29, 2010 at 6:22 pm
|
For Sale after 10-09-10...More to come later.....
Haute Bride Necklace SS-N403.  Paid $170.00 on Cocktailbling Sample Sale.  Asking $140 shipping included in U.S. ***sold*** 
10 Shelby Holiday & Home Table Number Holders.  Used once.  Retails for $18.50 for the set.  Asking $15 for each set or $7.50 each.  Sold to verdette.
For Sale:  6 Shabby Chic Ivory ceramic rose vases.  Retail was $14.99.  On sale I paid around $6.99 each.  Will sell for $5.00 each.  Local pick up only.  6 sold to MrzLemUS.  6 Available!  Local Pick up only as they are very fragile.
15 plastic mint julep vases (pictured above) with white pearls glued around trim.  Asking $0.50 each.  Local pick up only.
80 votive holders (pictured above) no candle.  Retail at Michael's for 0.99 each.  Asking $0.25 each.  These are fragile so local pick up only.
Candlesticks that I purchased at an antique store.  Paid $6.00 each.  Asking $5.00 each.  Sold to MrzLemUS
I have 8 of these bouquets.  Each bouquet has 1 purple hydrangea, 1 Ivory hydrangea, 2 purple flowers, 2 burgundy flowers and 3-5 green flowers.  The base bouquet was from afloral (see above) and was purchased for $10.00 each.  Each bouquet easily cost $20.00 after accounting for the extra flowers I've added.  I am asking $5.00 per bouquet.  Local pick up only.
16 Purple votives holders originally purchase from Par228.  Paid $25.00 for 16.  Will sell for $1.00 each.  Sale pending.
Michael's votives.  I have 2 boxes of 12.  Brand new in packaging.  My venue didn't allow them.  Will sell for $3.00 per box.  Local pick up only.
  Sold on 6/26/11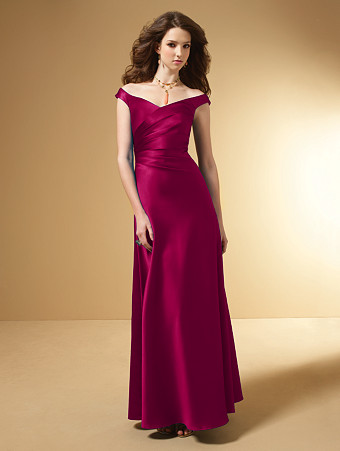 Alfred Angelo Style #7050 Size 4 in Wine
Available Now.  I wore this for my sister's wedding in February as the MOH.  It is a size 4 with a corset lace up back.  The only alteration done was on the length.  I am 5'7" and wore 3 1/2 inch shoes and it still nearly touched the floor.  Retails for $180.00.  I'm willing to sell for $75.00, $65.00, $50.00 shipping included.  It has already been dry cleaned and is in excellent condition!