My brother's wedding
Last updated on October 22, 2008 at 7:17 am
|
My younger brother was getting married August 1, 2009. But they have decided to postpone until 2011. My bro's employer drastically cut his hours and both of them are still finishing college. So there was no way they could afford to live together. So, they decided to postpone with hopes that the economy might improve and they'll be in a better situation financially.  Either way, I'm having a great time helping them with their plans.
My brother, Michael, proposed to Sara at Snow White's Wishing Well at Disneyland. DH and I were lucky enough to be there snapping photos. We'll probably use a couple of the photos in their STD.
That's me holding the ring box while we talk about "making a wish..."
Yay!
They have booked the Purple Orchid Inn in Livermore for the whole weekend, including their 10 guest rooms. It's a beautiful bed & breakfast in the Livermore Wine Valley. It has its own oilve orchard with beautiful Tuscany-like views. I kinda wish I'd known about this place for my wedding...   Despite the postponement, they still plan to get married here.
The bride's favorite color is purple and she is leaning towards this Jim Hjelm gown for her 7 bridesmaids. I will be one of them along with my sister. Her younger sister with be MOH.
She's chosen the Eggplant color, it's not a loud royal purple, it's quite lovely. I wonder if I'll be able to use it as a normal cocktail dress after the wedding if I shorten it to knee length?
As the designer in the family, I'm working on designs for their STDs and invitations. Here are some works in progres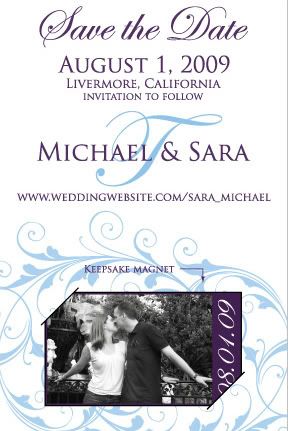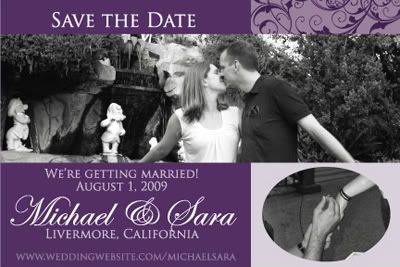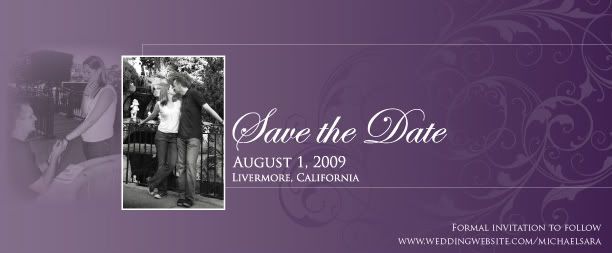 I'm looking forward to finishing the design with them and then moving on to invitations. :-D