Bridesmaids!
Last updated on April 22, 2011 at 4:32 pm
|
UPDATE: Here are the replica dresses I had made for the girls in Beijing. They turned out beauitful and the attention to detail is amazing! They only cost $50.00 each.
(Sorry I don't know why it goes on it side when I upload it!)
So I completely changed my mind about my dresses. Initially, the girls got to choose their own yellow dress. As the girls bought their dresses, I realized that I messed up because we had too many patterns going on and I wasn't feeling it.
Luckily no one spent much on their dresses and not everyone had even bought them so after much searching, I am getting their dresses made here in Beijing for them! They sent me their measurements and they are being made as we speak. They are similar to the Anthropologie Olive Shift Dress (I'm in love with this dress... I want one for myself!) It retailed for 150.00 and their dresses are being hand made and costing about $50.00 each. I'll post pictures when I pick them up from the tailors! 
Anthro. Olive Shift Dress: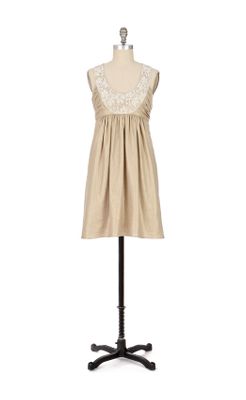 INSPIRATION
Tan/Beige Neutral Dresses 
---
....with cardigans! :)