Flower/Bouquet/CP Inspiration
Last updated on October 13, 2011 at 8:43 am
|
We booked a florist last week!
I am excited! I really didn't want to deal with a florist, and the cost of a florist, but my parents offered to pay for one. Since the beginning I've wanted to use wine bottles. Just recently I decided I want them all white. We will have purple table cloths so, it will look nice!
Source
 <Source
All different size bottles like this and all white with white flowers and lots of greenery!
As for bouquets, I fully trust my florist on this one. I have yet to find that one purple bouquet that I love, but I love her work. I love the rich texture of these bouquets. No roses though!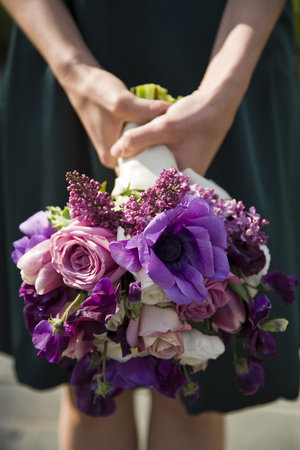 <Source 
And I love the dark purple carnations! My BM's will have all white, and I will have purple
*UPDATE* FMIL and I spray painted 36 bottles a couple weeks ago. They look great! We had some mishaps with the spray paint bubbling, but oh well!
~Can't wait to see it all come together~
CP mock-up
Reality:
our centerpieces, and below, our bouquets
EDIT**Future brides: If you're not really wanting a florist, a lot of brides have opted to go through sam's club or another place like that to order bulk real flowers and did the arrangements themselves if you want something simple. I didn't really think about that before hiring a florist. Just a thought. :)