Pro Pics: Getting Ready
Last updated on January 12, 2012 at 6:11 am
|
Starting off with the right music for the vibe today... Frank Sinatra station on Pandora. This was a surprise from my BM/hair stylist Drea and the coolest way to begin everything. It totally helped me relax and stay calm. :) 
I do not have any photos of ME getting hair/makeup done. This is totally my own fault because I was so worried about running late that I planned it all to happen far before the photographers got there. I knew it would take HOURS to do my hair and I was right. But it was all done on time. :)
It was definitely worth all the time in the chair. My MUA asked me if that was all my own hair and hardly believed me when I told her it was (but it was). LOL Unfortunately, I don't have any pics with my MUA, the amazing Heidi McKenna. 
My MOH Callie is pictured here with Drea's magic fingers.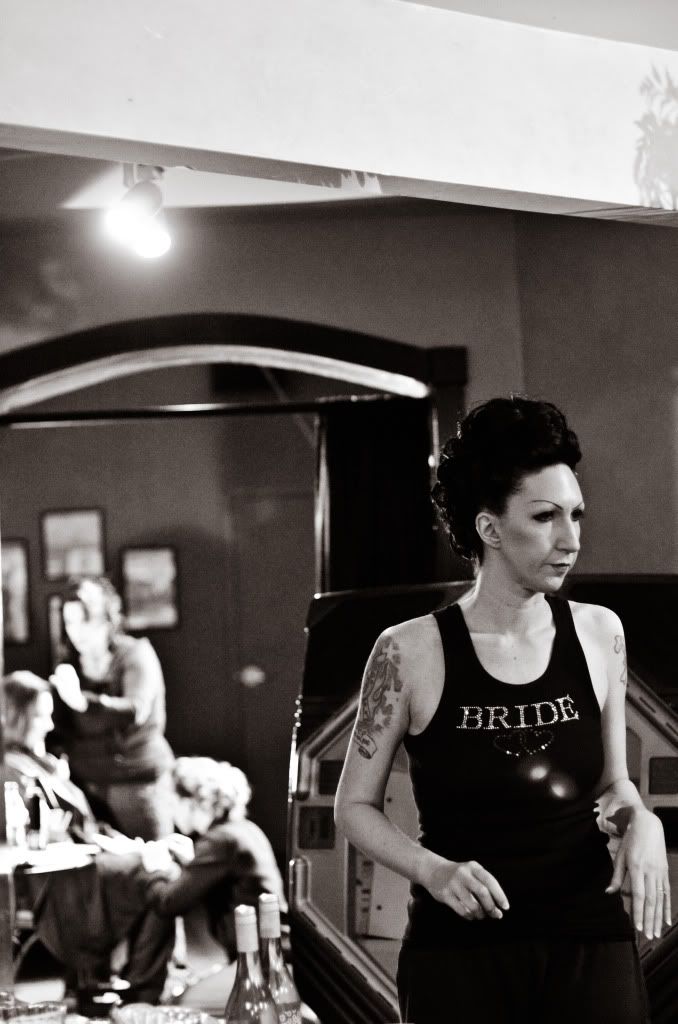 It was pretty chaotic backstage. We used all of the rooms the venue would let us have access to.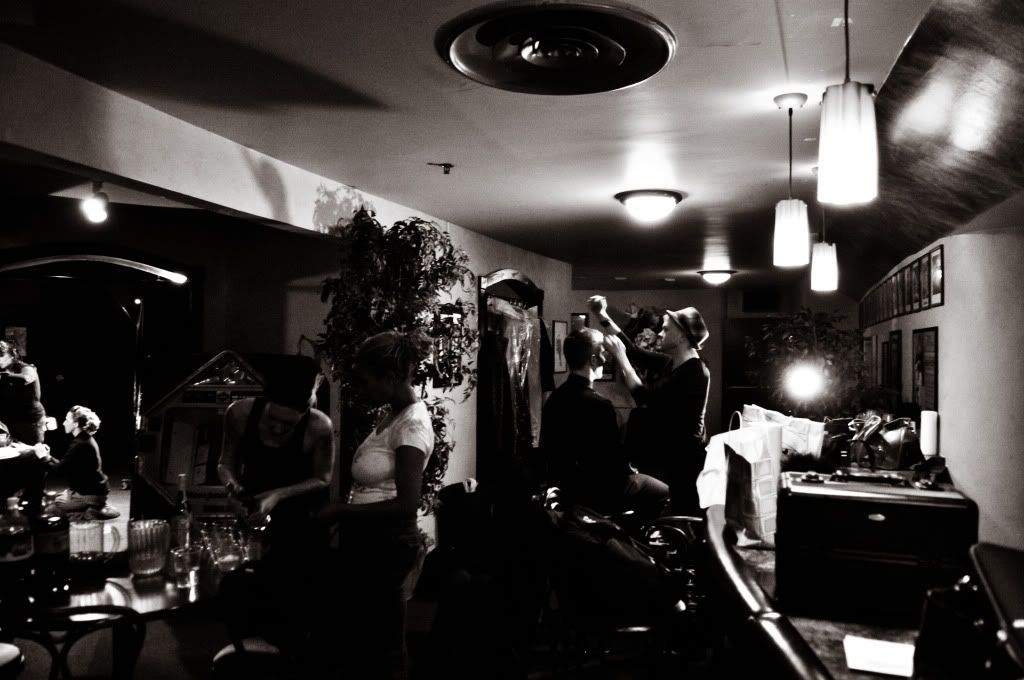 Alcohol was required! This stuff is great, very light, a wine spritz I bought from World Market called Pomula.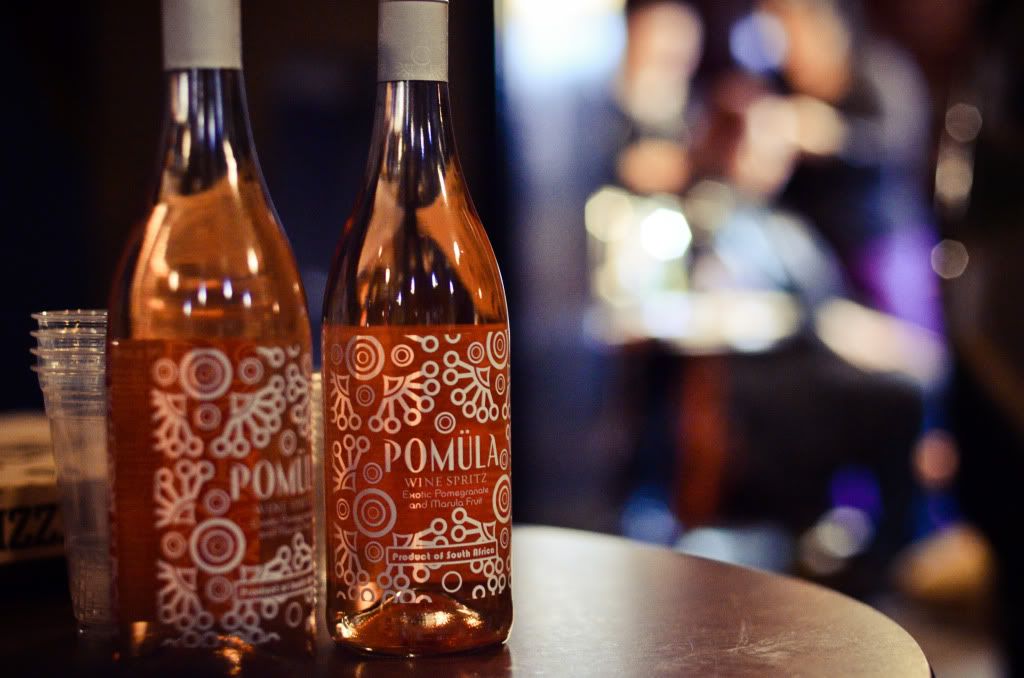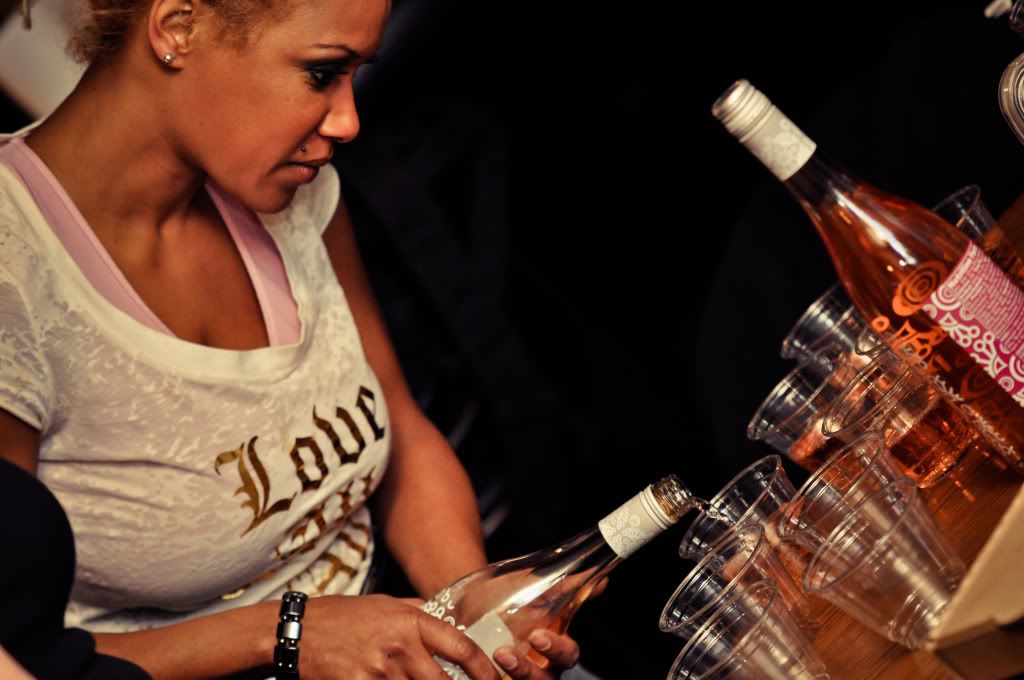 Wine and pizza from across the street. Pizza was for everyone else. My amazing MOH Callie got me Subway because I was afraid of messing up my makeup by eating pizza. My MUA taught me a helpful trick. She told me to take my sandwich apart, roll each piece up and carefully pop it into my mouth. It worked incredibly well! She also provided straws for drinks.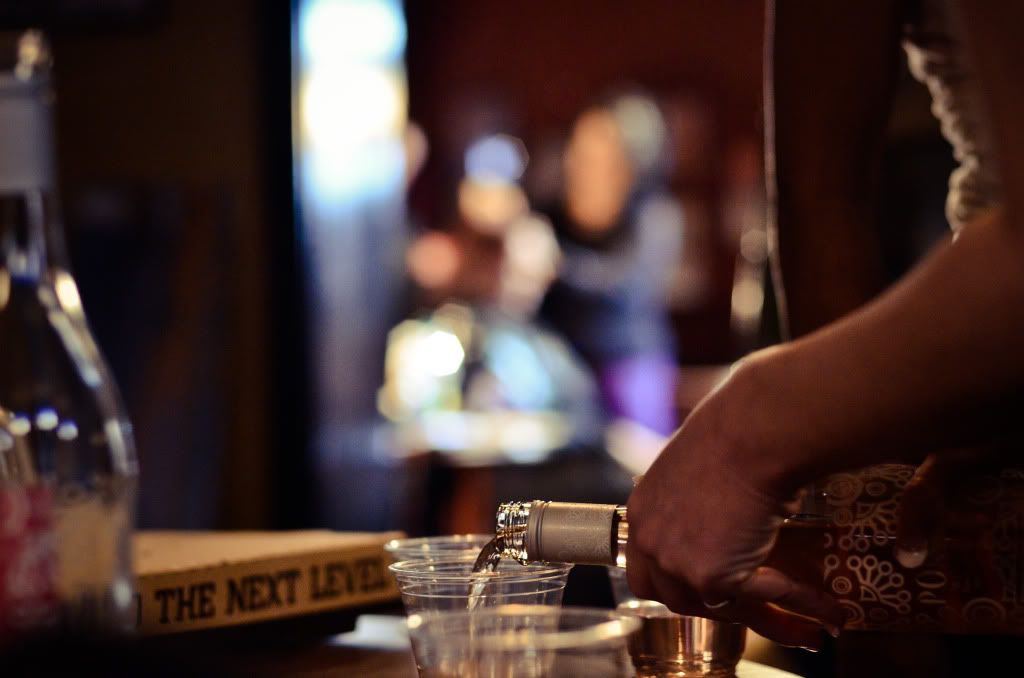 My BM Ebony did a good job of keeping me calm and making me smile because she kept running back and forth between my room and DH's room to check on him too. She gave me reports and told me he was really happy and that she felt love in both rooms. <3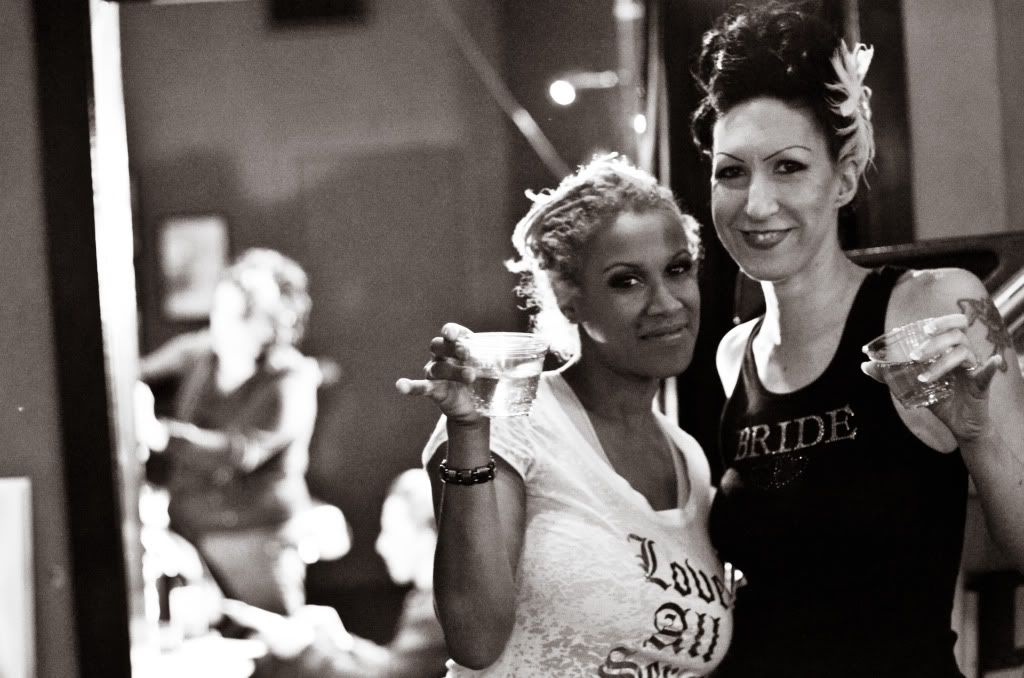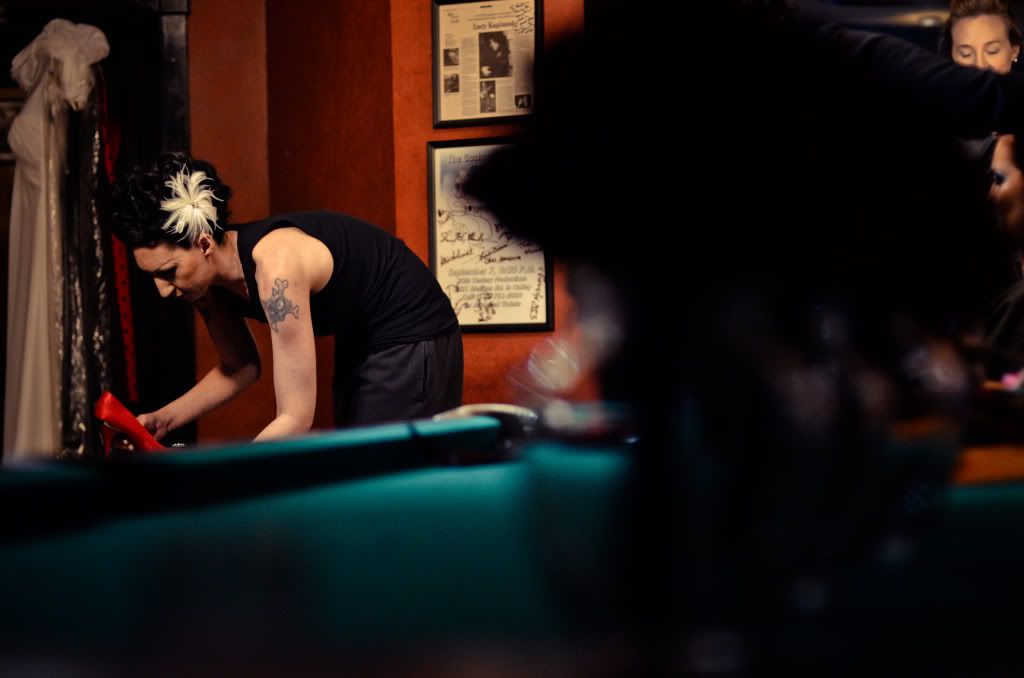 And then the brooch on my shoe came off. So my sister Lyn who was my other MOH helped me glue it back on. Don't you just love my baggy sweatpants? It was fuh-reezing in that room so I was wearing them over my jeans. So classy.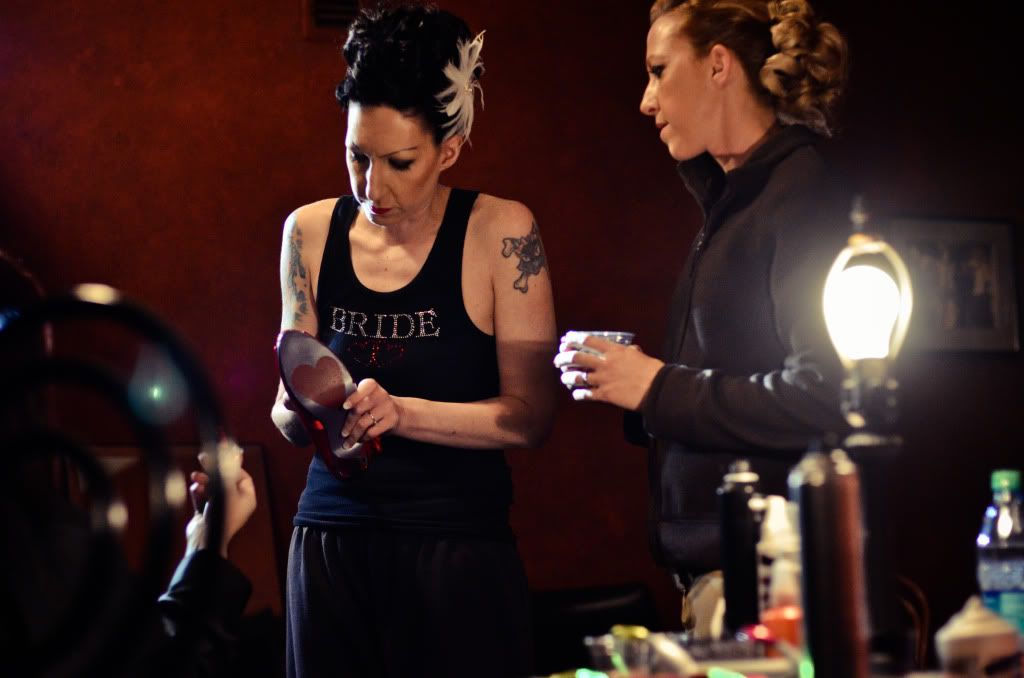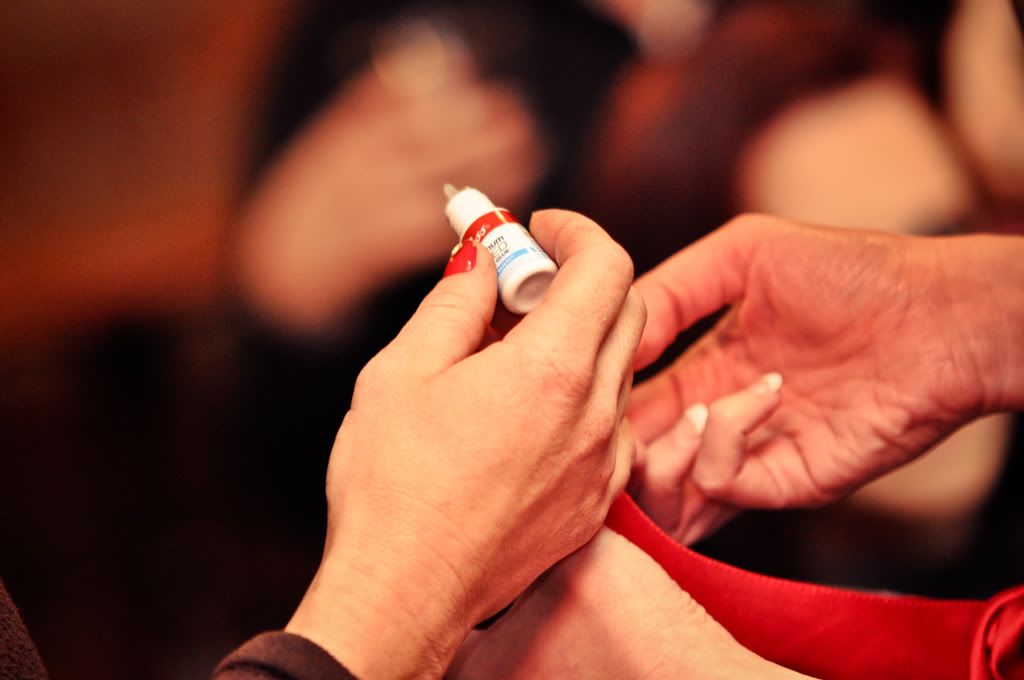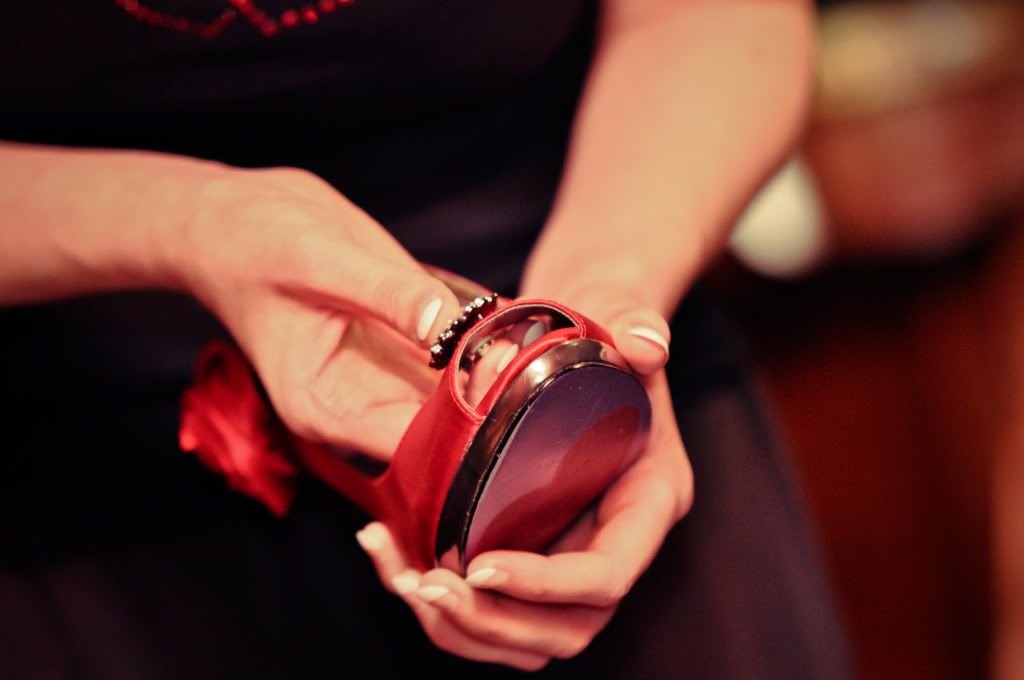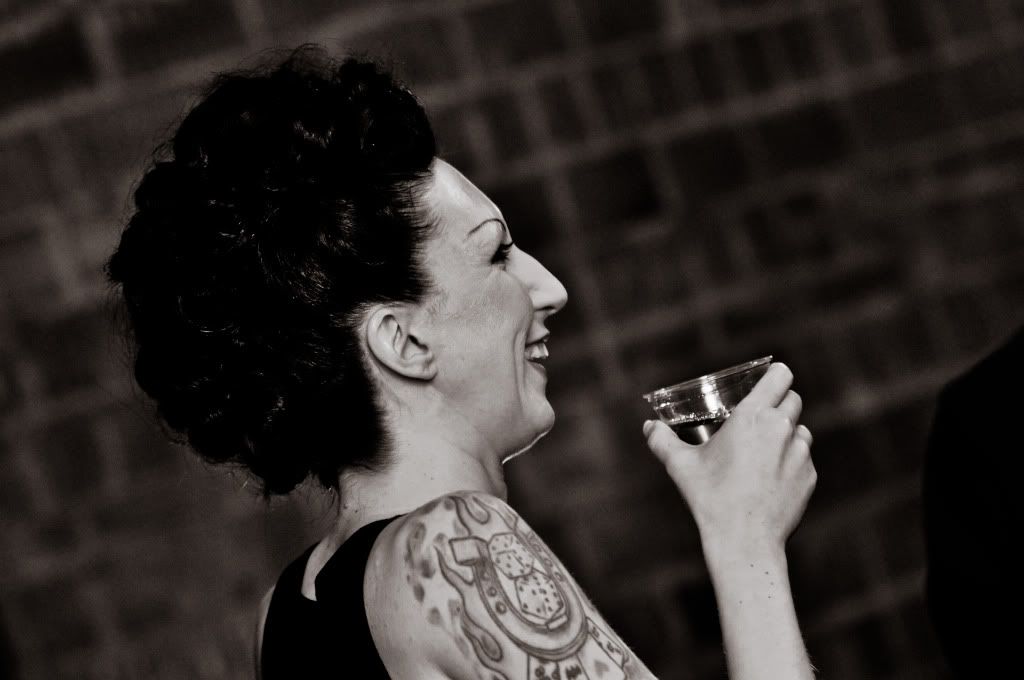 My mom. :)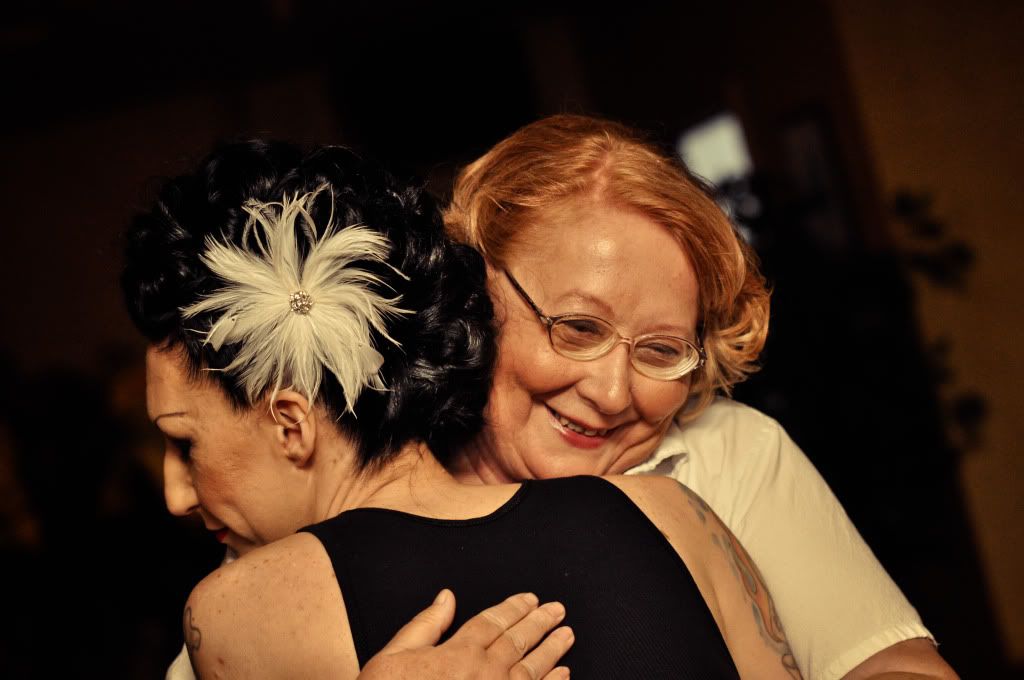 Callie and I were so excited about her hair that we hugged too!
And then it was time for my sister to help me put on my dress. I loved this because I had just helped her put on her wedding dress 6 months prior. :)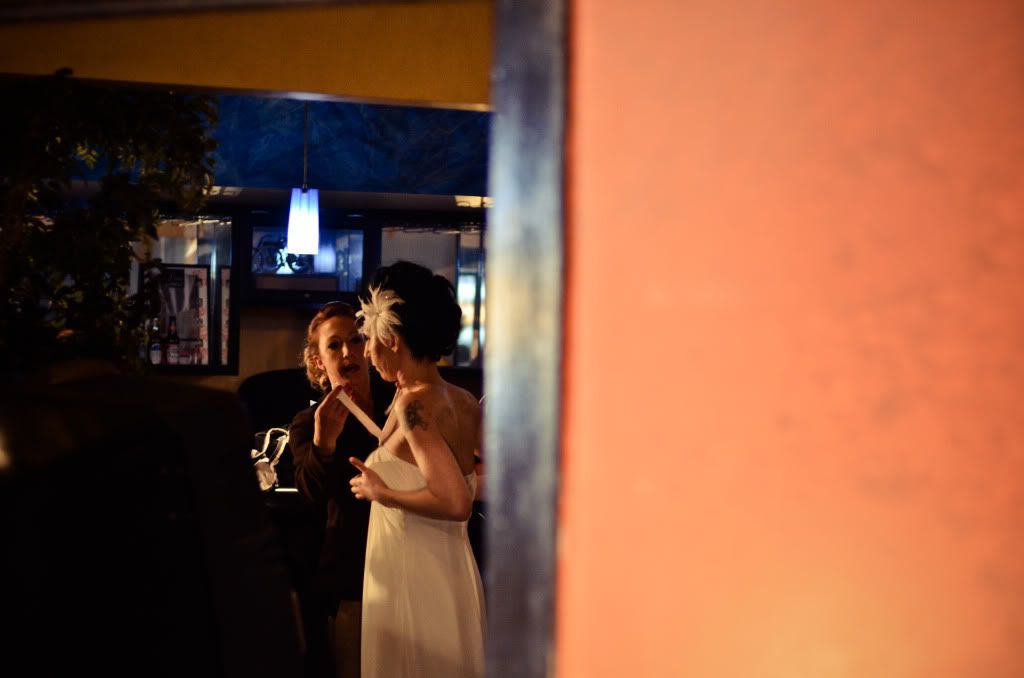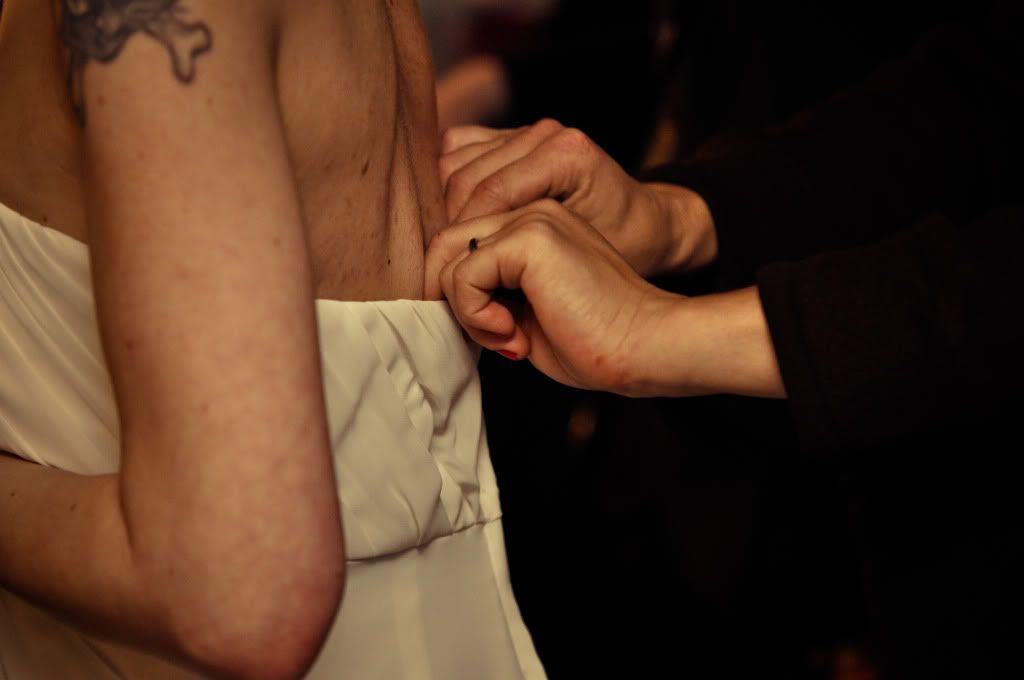 My dress was a little too big the week before the wedding (thanks to pre-wedding stress) so my friend Dana stepped in to help. She did some last minute sewing that morning but still needed to do some adjusting when I put it on.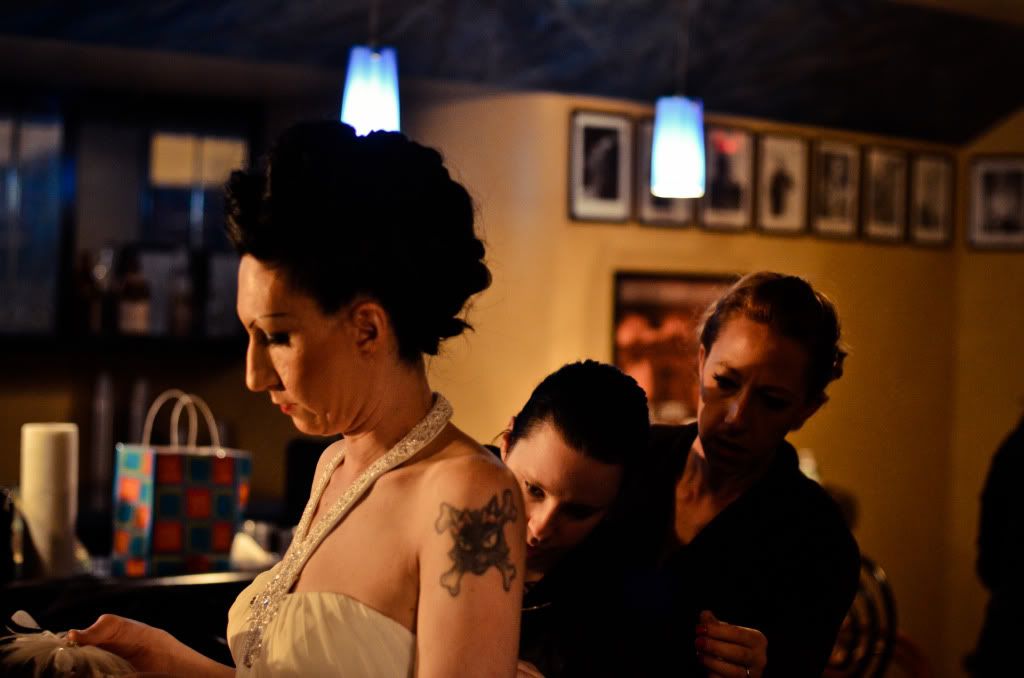 I love this next shot because it's me in the reflection of the jukebox.
The GM's were set up in a room adjacent to ours which was called "The James Brown Room" because it was pretty sleazy (in the best of ways). But the boys liked that. They also came to visit us often. :)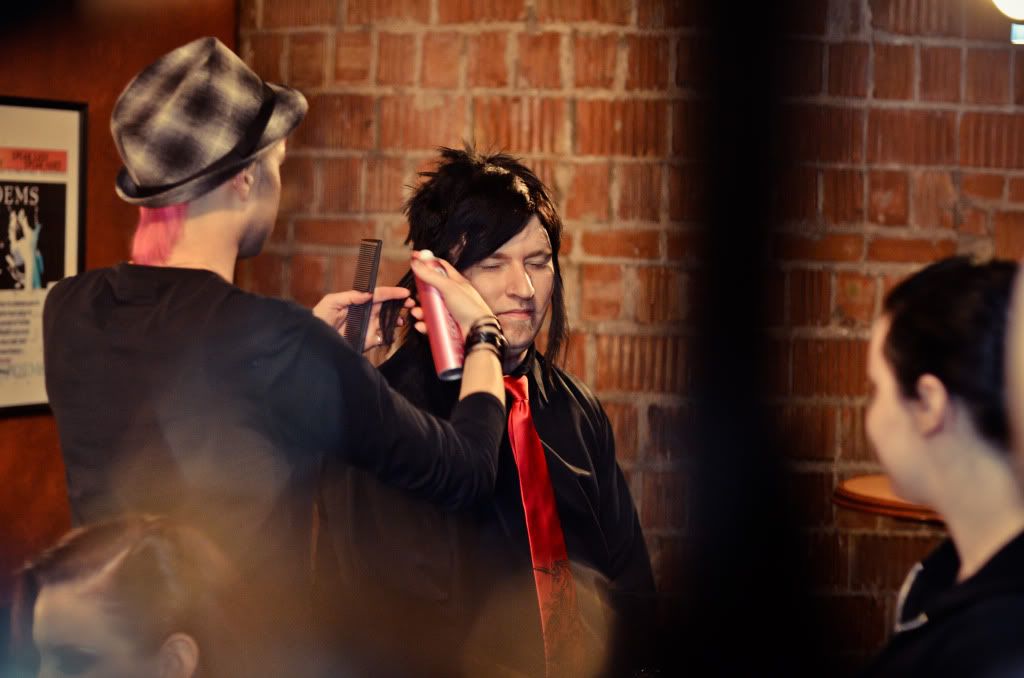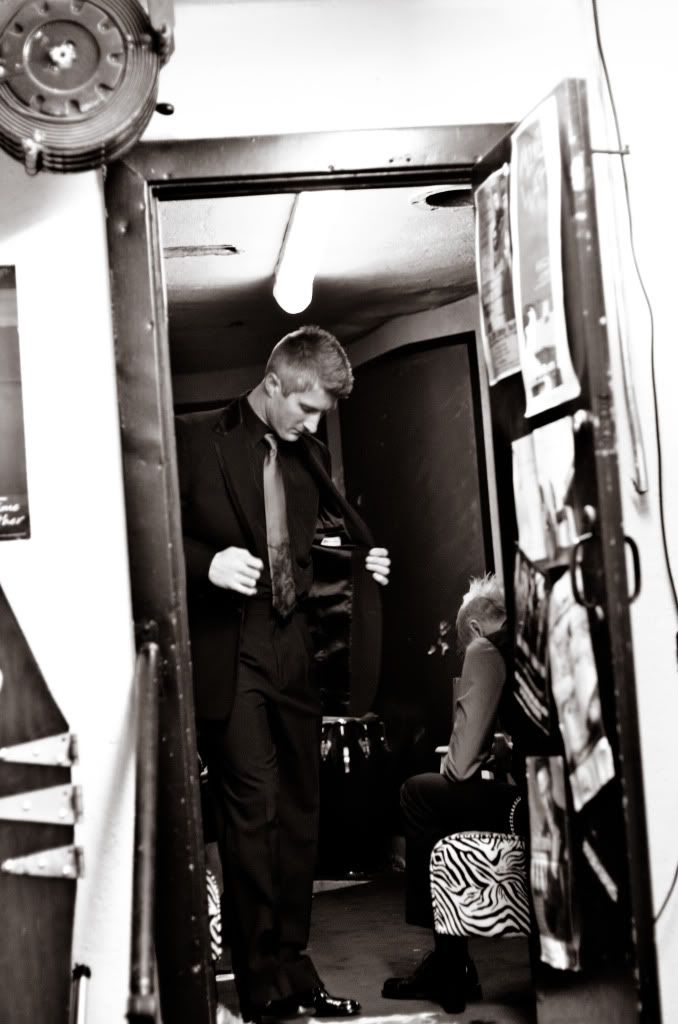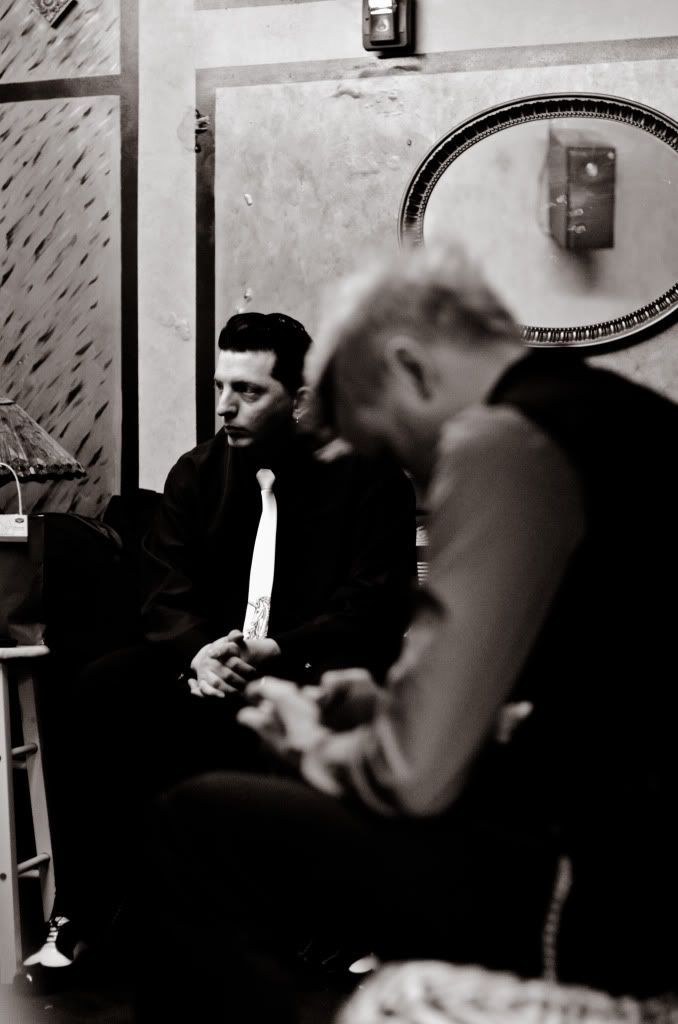 Our Best Man Justin held the rings and never wanted to put them down. :)
My handsome DH looks so happy here! =)