Gifts
Last updated on February 20, 2009 at 5:52 pm
|
For my bridesmaids gifts my mom will be making them each a Swarovski Crystal drop necklace.  I bought some cute monogrammed initial notecards at Michael's today to throw in with their gift(s).  I also found some silver (metal) initial keychains for them too.
DIY- My mom & I made 4 BM tanks, one MOH, one flower girl, bride & mother of the bride tank.  They turned out super cute, although they were a total PITA to make.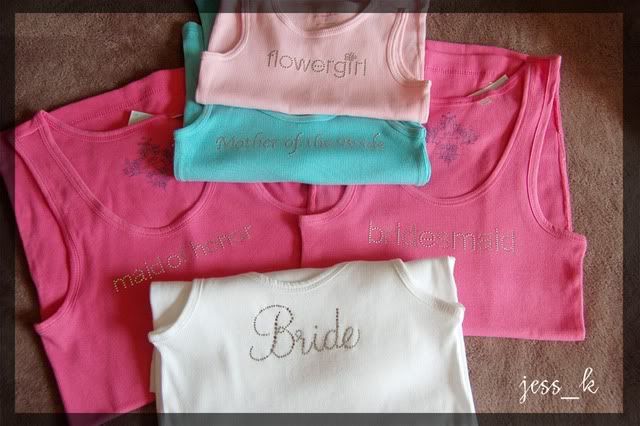 These were my inspiration for the BM flip flops.  They can put these on after the ceremony.
My version:
I am putting all of the BM's goodies in these lovely custom bags.  From Etsy seller Ole Bag Lady.
For the groomsmen we ordered these cool sets from eflask.com.  I would highly recommend eflask.  I placed my order & the very next day these shipped out.  I literally had them in my hand within a short few days.  And the quality is really nice too!  We are also giving the GM's each a pair of flip flops to wear during the reception.  :)
I just saw a thread on the skittles vodka, so I am pretty sure we are going to do that for everyone as well.  I can't wait!