All the litle things...
Last updated on May 23, 2013 at 10:28 am
|
The common cup that is an essensial part of the ceremony and is a silver plattet goblet with vine leafs:
and the toasting flutes (the pic is from google but we got them from a local store and they have a maching serving set):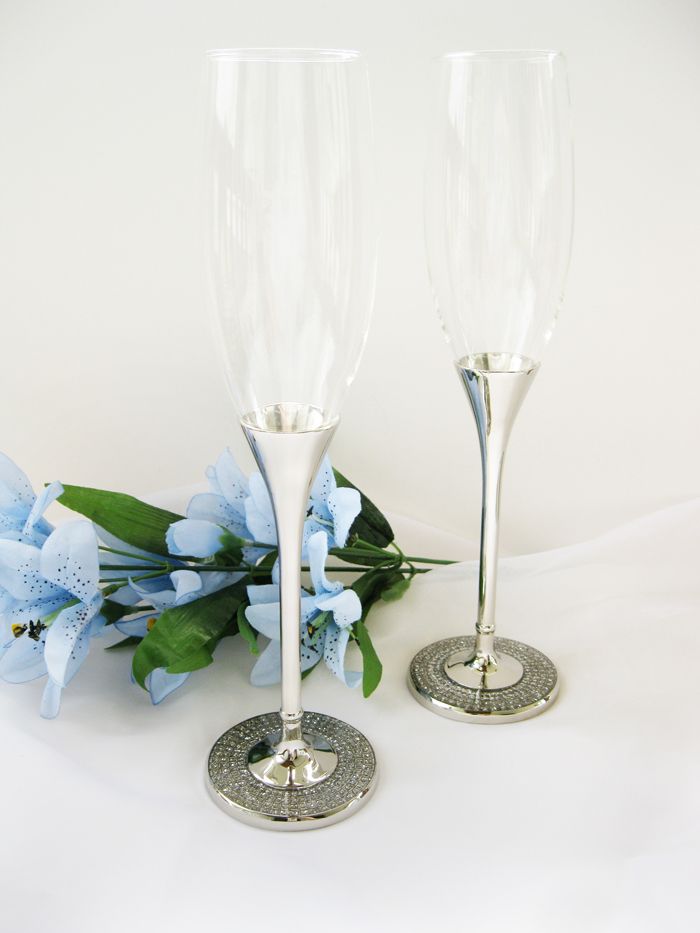 detail of the bottom 
Now as I said, in Cyprus the bride's and groom's getting ready is a whole ritual on its own.  Its done with tradisional mucic and part of it is that the bride and groom must be -I don't know how to say it in English- must be "smoked". Picture it like the incents being used to "cleanse the bad energies". And it requires a silver set called "kapnistomerecha" were we put little charcoals and we burn olive leafs specially blessed by the church.   These sets are usually passed down in a family and is only used in weddings. My aunt, my father's cousin, has a set and we borrowed them for my wedding. I just polished them and they are ready!
We use the double one for the "smoking" and the tall one we put rose water that we spray on the guests hands.
I also borrowed the little silver plate the wedding bands will be placed...
 (I could not get rid of all the tarnish from this one but I don't care)
 UPDATE 24 June 2013:
I got the handmade traditional straw basket called "tsesto". We use this for the "dressings". It is covered with an embellished cloth and inside we place the brides/grooms shoes, the accessories, the perfume, the veil, anything that completes the bridal look and also the red cloth that I mentioned on a previous post. The basket is then held by the close friends that dance with it under traditional wedding music. Then the MOH puts the shoes and the veil and the accessories on the bride.
I also got some fans that we will give to the ladies that will attend the "dressings" to fight the heat.
And got the tray that with the thinks that will de used in the ceremony almost ready for the church
In it we place
1) the common cup,
2) a smal bottle of sweet red wine,
3) the stefana that will be placed on a pillow like the ring pillow in American weddings,
4) a silver plate for the wedding bands that have a piece of red ribbon tied on them
5) and a silver plate for the wedding bonbons (odd number) that also have a red ribbin. These are given to the single ladies after the ceremony and folklore tradition says that, if they put them under their pillow that night, they will dream who they will marry.  
The tray is on display during the dressings and then is carried to the church by the mother of the bride.