My Wedding Day
Last updated on August 19, 2013 at 12:36 pm
|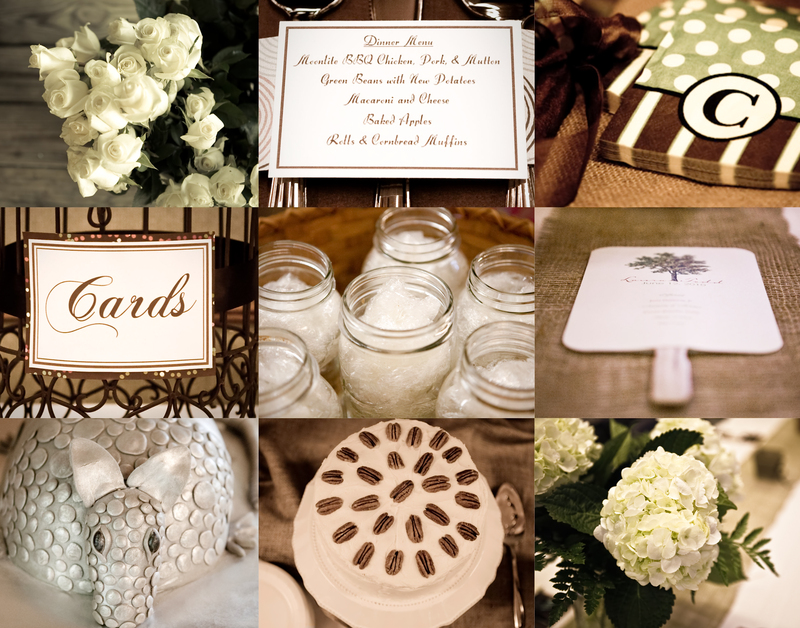 I had originally planned on wearing a white flower in my hair, but I misplaced it the week before the wedding.  When I mentioned to my sister that I was considering a veil, she offered to let me borrow hers.  It was very simple.  I tried it, and I loved it!
I styled my own hair the day of the wedding, and my sister had a bit of a hard time getting the veil to hold firmly in place.  We finally got it in place and I really felt like a bride.
Holding my shoes and feeling a little nervous....it was almost time!...
Touching up my lipstick...
My mom helped me with my earrings...
A moment to reflect on the excitement of being a bride...
---

Todd and I got married at Camp Loucon, a Christian camp that was the perfect spot for our rustic outdoor wedding.....
It was a little off the beaten path, but the scenery was beautiful....
Despite a forecast of thunderstorms, the weather was beautiful (but hot!) all day at our little outdoor chapel...
Our personalized water bottles (not pictured) and DIY program fans helped guests beat the heat....
Our photo guestbook...
We kept the decorations to a minimum because the rustic little space already had so much charm...
When the heat index went over 100 degrees, the guys made the decision to ditch their jackets, and I didn't complain one bit...
My sister, my father, my son, and I arrived at the ceremony in this beautiful horse-drawn carriage (a wedding gift from some of my family)...
And my handsome son walked me down the aisle and gave me away...
We had been waiting for this moment for so long and it was finally here...
This is where we became a family...
The ceremony was beautiful and meaningful, and I was totally in the moment...
And then the big kiss...
And now we're husband and wife...
And we rode away in our carriage, happy as can be...
---
We took a few moments to ourselves immediately after the ceremony.  I love these pictures!
---

We kept the wedding party very small.  My son Landon, my sister Kristin, and Todd's best friend Mac.  Plus the bride and groom, of course.  =)
---

Our toasting flutes from Things Remembered.  Todd picked these out all by himself.  :) .......
My amazing aunt who arranged our flowers:
One of my DIY pomanders, which were hanging in the windows at the reception:
Paper lanterns borrowed from my sister after she used them in her wedding last year:
I found these adorable napkins at Marshalls and just had to have them for our cake table:
Bamboo utensil holder that I found at Dollar Tree.  What a steal!...
Cream cheese mints made by Todd's mom...yum!...
This amazing guestbook quilt was a gift made by one of Todd's aunts.  It is so gorgeous and everybody loved it!...
Some of our flowers...
The overall look of the room...
I love this picture taken from the back deck, looking into the reception room...
---

We decided BBQ was just right for our laid-back reception.  We had carryout catering from a nearby BBQ restaurant.  We started off with fresh fruits & veggies, pasta salad, coleslaw, and a relish tray.  Then we moved on to the main event.  In case you can't read the menu below, we had:
BBQ Chicken, Pork, & Mutton
Green Beans with New Potatoes
Macaroni and Cheese
Baked Apples
Rolls & Cornbread Muffins
---

Our cake table was filled with homemade cakes (german chocolate, butter pecan, mandarin orange, apple walnut oatmeal, coconut lemon, chocolate raspberry) with a simple 2-tier wedding cake (white with raspberry filling and my homemade buttercream) topped with my DIY birdie cake topper.  We also had a fantastic armadillo grooms cake that was red velvet inside to give it the "bleeding armadillo grooms cake" effect, like in the movie Steel Magnolias.  Everything was delicious!
(The mandarin orange cake hadn't arrived yet when this pic was taken.)
The Bleeding Armadillo Grooms Cake (inspired by the movie Steel Magnolias):
---

Since our wedding and reception were held at a summer camp, we thought a S'mores station would make the perfect touch!  (We did these in lieu of favors.)
We used 2 tabletop fire bowls that we found on clearance at WalMart for $25 each.  And we used graham crackers, marshmallows, and mini Hershey's chocolate bars.  Oh, and wooden skewers that we had soaked in water to keep them from burning so fast.
The S'mores station was a big hit!
---

My husband loves tractors.  Especially John Deere tractors.  So when we discovered that a friend of the family actually has a little farm and John Deere tractor mini-museum, we knew it would make a perfect spot for pictures.  We planned to go before the ceremony, but I was running behind, so these got pushed to the end of the day.  We were so hot and half of my makeup had melted off by this point, but I still love these pictures!