Our Venue
Last updated on April 24, 2009 at 6:29 am
|
We are having our ceremony and reception at the beautiful private estate, Beaulieu Garden in Napa Valley.  The grounds of the estate are equisite and essentially serve as a blank canvas for us to set up however we wish.  And since it's not open to the public, we have complete privacy for the event.  It's all that I could ever ask for. :)
Here are some pics during our walkthrough.  It's a little tough to visualize since nothing is really setup.  (One of the downsides is that we have to rent EVERYTHING).
---
Guests will drive down a quarter-mile sycamore tree lined driveway until this point where valet will greet them.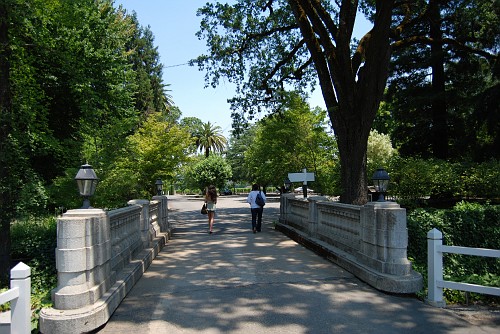 They will then proceed down this walkway.
Until this point where they will enter the rose garden.
The roses should be in bloom and fragrant on our wedding day in June.
The garden will lead them to the entrance to the sunken courtyard where the ceremony will take place.
After the ceremony, guests will gather in this area for cocktail hour.
A bar, cabaret tables, and our string trio will be set up in this area, while passed hors d'oeurves are served.
After cocktail hour, guests will be led down this canopied walkway to the dinner reception.
Dinner tables will be set up under this sycamore canopy for dinner al fresco.
And a dancefloor for guests to dance under the stars.
A view of the pool with the rolling hills in the distance.
We'll be taking in the beautiful views of the vineyard and valley. 
---
Here are some pictures from actual weddings to give a better idea of how it will look when it's all set up.