Hey ladies! 
As you all know, I have had one hell of a journey trying to keep my pregnancies. I actually miscarried again back in June but didn't really share with anyone on that pregnancy. Ya know, when you lose a few, you tend to tell fewer people about your next pregnancy because you're just... simply scared that you may lose your baby again and having to tell people that... well its just hard on the heart. 
Anywho,  i'd like to say I am here to stay (fingers crossed) You know what they say... 5th times a charm, right? lol. I am 12 weeks pregnant! And I have never seen past the 11th week, so this, I am proud of!
We still haven't really told anyone other than our parents and siblings. We dont plan on making it "FB official" until maybe around the 16th-20th week. Just to be on the "safe" side. 
CLIFFNOTE UPDATE:
1) I quit my full time job to nurse this pregnancy
2) Still have my part time @ Red Cross but only work when I'm able to
3) I'm sicker than a dog! I vomit at least once a day
4) I'm flagged as "high risk" so I'm being seen every 2 weeks
5) I go in for down syndrome testing next week monday (i'll be 13 weeks then. Doc says they will more than likely be able to tell us the gender. kinda cool)
And last but not least! I finally got to see my little baby move like crazy during our 10 week check up/ultra sound! It was by far the most amazing thing I have ever seen IN MY LIFE!. I think our doc was just genuinely happy for us that he allowed us to watch our baby move for about 5 minutes. No joke! He literally sat there holding the wand inside of me. lol, i know, tmi. The baby was crazy active. Kicking his/her legs, stretching his/her arms and turning his/her body around. After that appointment, I think that was the moment, when DH and I finally started to let go of our fears and are now trying to enjoy this pregnancy more and more as the days go on. 
Oh, and the doc got an awesome picture of the baby "smiling"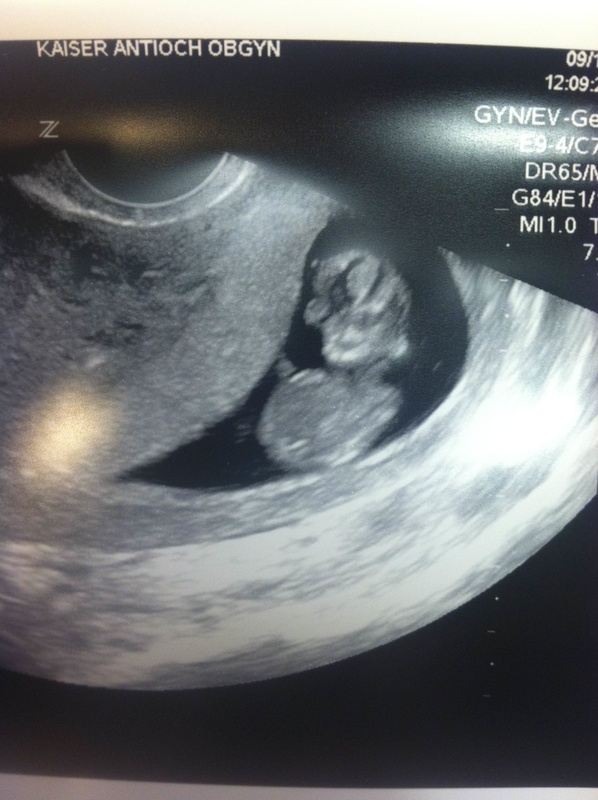 So without further ado, Baby Nobela is scheduled to make his/her debut into this world on April 9th, 2014 :)
Posted on September 24, 2013 at 1:42 pm