From Inspiration to Reality!
I finally got my two Milly dresses today:) I had to stop posting during this process because I was so all over the place with emotion that it would have been unfair to the ladies who were still waiting for their dresses. I read some posts on here that made me loose sleep many nights:( Bella must have over nighted the dresses, because she shipped them out on Tuesday! I am sorry that I can't post pics of me and my MOH in them now, I tried mine on alone at work and she tried hers on this morning. I will post the pictures from the wedding though.
I must say that my overall Milly experince was a good one. The anxiety was nothing pretty, but I would do it again. I love both dress, they are wonderfully made. Mine fits like a "snug" glove. I must loose ten pounds but the fit is amazing. The beading and quality of both gowns are stellar. My only complaint is that my gown it too short. I have no choice but to wear flats, and I took the length measure to allow for three inch heels.  But for my dress needing ZERO alterations I can accept this. My sister's also fits PERFECT. WE had to work the zipper to get it up but that's her fault, she admits it, cause she has no grasp on the word diet and has been in a hot wing zone for a month!
I have always told myself through this process that "you pay with your time, or you pay with your money" so I definately bought this dress with my time! My advice for any Milly ladies would be to keep on them, but be really nice, and save every email. I counted them all and I have emailed Milly 124 times since my initial dress order! I am so glad I saved every one that they and I sent because twice i had to prove to Bella that she promised me something would be a certain way, when she said it was all of a sudden "not possible" . Once I forwarded her the email where she indeed said my dress would be beaded a certain way or done by a curtain time, she immediately fixed it. So keep EVERY email until you get AND ARE HAPPY WITH your dress. Also the lighting there is weird so my dreses look pink in the pictures, which really freaked me out, but they are true to color so don't stress about this. Finally, order early! Give Milly 8 months for a custom order so you can sleep at night;)
Inspiration: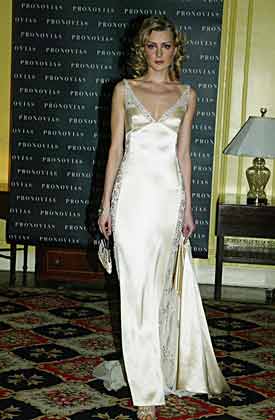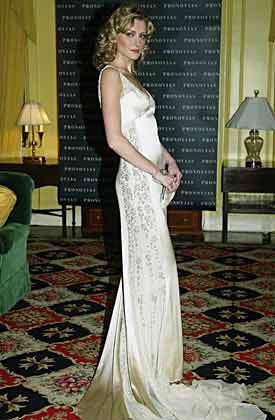 Reality:
Inspiration:
Reality:
Posted on September 1, 2010 at 5:20 pm