FS: Lots of stuff! Chocolate & fuschia, turquoise & champagne colors!
have a ton of stuff for sale, please message me if you are interested in any of it or email me at jl_kissell@hotmail.com
I will only accept Paypal, so please don't forget that I will add in the Paypal fee's on top of the price.  Some stuff is available for pick up only.  I am located in Colorado.
-Blank pre scored ivory placecards.  38 of them.  From Michaels.  Asking $2.00 shipped.
-7 silver (metal) mini easels.  I used them to hold the table numbers.  Asking $10.00 for all of them + actual shipping.  I paid $20 & these are all in perfect, like new condition.  (2nd photo is the easel with our table numbers on it.)
-Pink glittery chipboard letters.  Asking $3.00
-24 bottles of wedding bubbles.  Each is decorated with a silver flower sticker with a pearl center & a ribbon tied around the neck.  Ribbon can be switched out to match your colors.  Asking $3.00.  Prefer local pick up on these.  Can ship for actual cost, but can't guarantee they won't leak in transit.
-Fake flowers.  Two large reddish pink peonies, asking $4.00 shipped each, these are brand new, just taken off the stem.  These retail for over $6 each.  The smaller pink one feels life like & is made of latex.  We used this on the back of the flower girl dress.  Asking $3.00 shipped for that one.
-Small square card box, covered in chocolate & champagne material with pink peony flower.  Measurements are: 8"x8"x8".  The bottom part of the card box is not fully covered & neither is the inside of it.  This is beautiful!  Asking $20 + actual shipping, or would prefer local pick up if possible.  You can easily remove flower & replace with one to go with your wedding colors.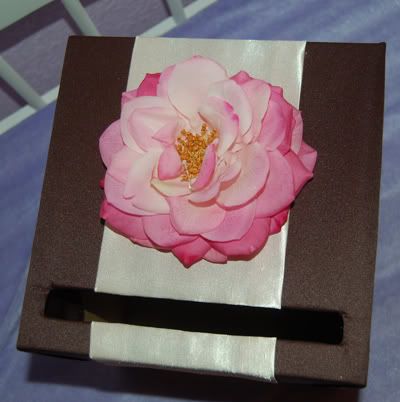 -Guestbook Pen- Covered in same fabric as card box.  Chocolate with champagne colors & rhinestone accents.  Pen is silver, I beleive the ink is black.  Gorgeous!!!  Bottom part of pen holder is not covered.  Asking for $12 + actual shipping.
-Chocolate brown padded board.  20"x30". Used for seating arrangement chart.  I displayed it on a large easel.  Pick up only.  It looks better in person than it does in photos.  $8 if local pick up.  Small stain on towards bottom.  Could easily be covered up with your seating charts.  May come off if treated appropriately.
-David's Bridal size 2t flower girl dress.  Color is truffle.  Dress is currently at cleaners.  Perfect condition!  Asking $60.
-Champagne sash to go with flower girl dress.  $5.00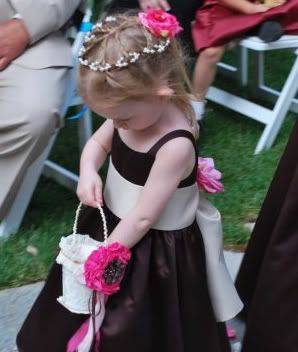 -FLOWER GIRL DRESS
Selling this brand new flower girl dress.  I bought it from Candygirldress.com
FUSHIA WAFFLED HEM FLOWER GIRL DRESS
Measurements are:
Chest - Back elastic fully stretched:  24"
Chest - Back elastic not stretched:  23.5"
Waist - around 3" above belly button:  22.5"
Shoulder to hem - Length of the dress: 24"
I love this dress, but found something that I like better...  I will sell for $47.00 shipped.  I paid more for it than that.  It's on sale for $47, but with shipping it will be well over $50 if you purchase from that site.
Here's a few photos of my daughter in the dress.  The color is not quite as bright in real life, I edited the photo to give it a brighter hue.
Posted on August 19, 2009 at 5:25 pm