I ordered my (new and improved!) dress last night... YAYYYYYYYYYYYYYYYYYYY!
OH MY GOD! Yes, I found a new dress. Holy cow.... holy cow.. holy cow.... I'm a spazz (still).
Alright, first things first... It was 'back to the drawing board' in recent weeks, trying to find a new dress. I had actually narrowed it down to two, both very simple (but very different) dresses, and I wanted to go back with my MoH to get her feedback. The main thing that was missing from the dress I already HAVE was ROMANCE. I like soft, I like pretty, but not "foofy," but I wanted to feel romance in my dress.
So I tried them both on for her (and a couple others I found while waiting for her) and we were both waffling back and forth. There were elements of both that we loved. Well there was one dress I had seen hanging up (they had two in the store -- one several sizes too small, and one a couple sizes too big) that I really liked, but didn't bother to try on... .then another bride in the store (a teensy little petite thing - as in, her body and my body have NOTHING in common) tried it on, and I was like "Hmmmmm.........." I loved the detail on the train, but I didn't like that it had little spagetti straps (I wanted strapless).... But I kept looking at it.
So I'm getting dressed, and I'm THISCLOSE to ordering one of the gowns, but at the last minute I asked the consultant to grab this other dress for me. I wanted to try it on to eliminate it actually, to solidify my choice.
I put it on, and it's falling off me, cus it's too big, so she clips me in... before I even walked out of the dressing room, I was still bothered by the straps, but noticed it had light boning in the bodice, so it doesn't NEED the straps. She says "Oh yeah, it'll be easy enough to order it without those; why don't you just tuck them in so you can see it without them?"
That ONE little change made all the difference. I walked out and my MoH and I both started to tear up, and she was like "I just got chills!!!!" It was it. Without question.
In pictures, it's hard to tell, but it's more of a sheath cut, fitted to about the knee, then it flares out, with an overlay of heavily beaded lace that flares WAYYYY out, so it gives the illusion of a much fuller gown without the bulk.
It DOES have more of a train than I thought I wanted (I think it's a semi-cathedral), but I love it. Absolutely love it. It's so completely romantic.
So thennnnnnn.............. I've had this "thing" all along for mantilla style veils. In short, I love them. Again, it's the romance. I love that kind of Spanish look to them. Well, this dress works PERFECTLY with a mantilla style veil. They had a couple in the store, and I tried one of them on with it, and everyone in the store was like "WHOAH...." (none of the consultants had even thought of pairing it with this style veil, and then I saw one hanging on a wall, away from the other, more traditional veils).
They didn't have one in store that truly matched the dress, so it's not the one I'll be getting. They're going to inquire about ordering additional lace that matches the hem (that scalloped edge) of the dress, so I can have one made (and if they can't get me extra lace, then I'll just get a sample of it so I can try to find it locally).
I'm beyond thrilled... it's amazing. Maybe more ornate and formal than needed for a Vegas wedding, but I don't care. I feel AMAZING in it.
These pics are craptacular - they're just from my phone (I forgot my USB cable to upload the pics from my regular camera today), and ignore the look on my face... lol....(it was like 85 degrees - literally - in the store, so I was roasting!!)
WHOO HOOOOOOOOOO!!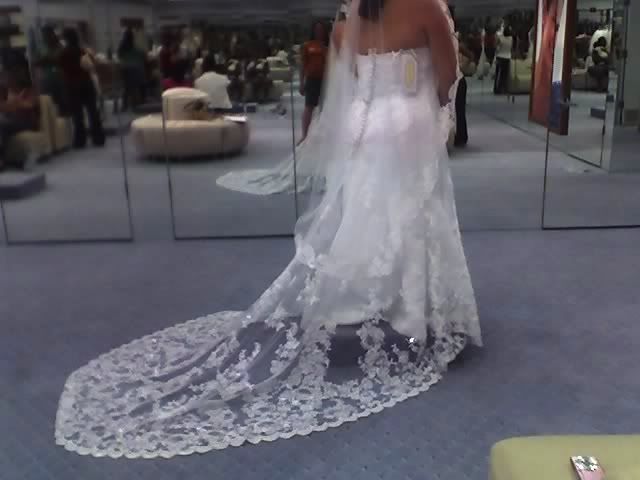 I'll post more (better) pics tonight. I got a bunch of close-ups of the lace and detail in the beading.
YAYYYYYYYYYYYYYY!!!
Posted on June 5, 2008 at 1:06 am