Incorporating Traditions, cultures and religion into your wedding day
This weekend I saw a couple of my friends that are getting married the 2nd week of October. She is Indian and he is from Sri Lanka.  They are going to be incorporating both religions and culture into there wedding as well as adding a "western" feel. The ceremony will be in a temple and have some of both customs then the reception she will be in a white gown for a western reception but again with food from both of there countries. I'm SOOOOOOO excited to see it all and be a part of it.
She also invited me to participate in the henna party that will take pace before the 1st day of the events. I'm really looking forward to seeing all the traditions of this and to get henna done myself.
Here is somewhat what a henna/Mehndi party is –
Mehndi has a long history in India, the majority centering on weddings. The role of henna goes beyond cosemetic and aesthetic value, and has a much deeper meaning to the women of India.
The night before a wedding is known as the 'Night of Henna" or Mehndi when the bride's hands and feet are decorated with elaborate designs.  The designs are usually floral with some signifying fertility. The grooms name is hidden within the right palm of the bride, and he must find it before he is allowed to sleep on his wedding night.
At the Mehndi, relatives and friends (married as well as unmarried) of the bride gather at the bride's house.  While the henna is being applied the bride is given advice by older women on married life.  There are many folk songs that have been written about the Mehndi and often singing them is a natural progression of the festivities.
In some parts of India, henna is also applied to the bridegroom's palms.  The deep red of Mehndi symbolizes the deep love between the husband and wife.
There are many superstitions surrounding the longevity of henna on the bride's hand.  One superstition is if the henna lasts longer on the brides hands then her grooms, the bride will be treated very well at her in-laws' place.  Meaning she is spared from doing chores! Since that is the case, the bride's mother often feels a sense of relief when the daughter visits her few days after the wedding and is still able to see the henna design on her daughter's palm.
Mehndi is just one of the rituals that signify the departure of the bride from her home to her new husband's home.  Thus the begining of an important new stage of life for the young lady.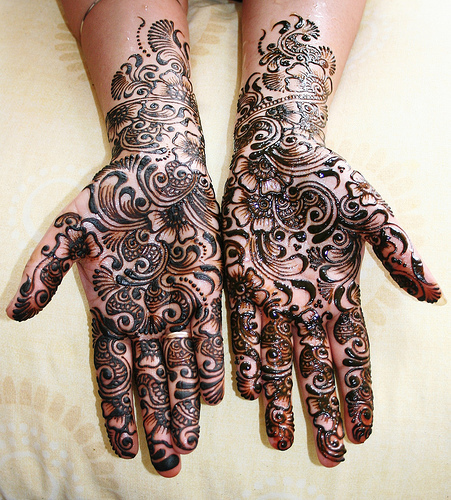 Posted on August 5, 2013 at 9:00 am