Invitations- OPINIONS PLEASE!
Hi Ladies!
You all can just call me Queen of the Last Minute. So the wedding is June 28th and I am JUST NOW ordering invites. hahahahaah Thank goodness for costco and their super cute invitations and fast processing time. Anyway, this is what I have designed up on their website. Please let me know what changes you'd make... all that good stuff.
ALSO. I am not sure what time to start the wedding? The location only allows the reception to go until 9pm, so I was thinking maybe a 3:00 arrival, 3:30 wedding, 4-5ish for photos and drinks/mingling and then after that have dinner, etc. I honestly am clueles.. we're meeting with the DJ soon though so maybe he can inspire me.
*feels a little insane*
Here's the invites, response cards & directions card. Our colors are light aqua & charcoal grey- but the invites have chocolate on them. I was thinking I might adhere a small charcoal rhinestone to the center of the design on the cards. I have rhinestones adorning the table numbers, cake topper and the chopsticks. Cheesey? Cute? I don't know? And I was considering tying the cards all together with some sort of a cute ribbon or something. Any ideas would be GREAT. Thanks!!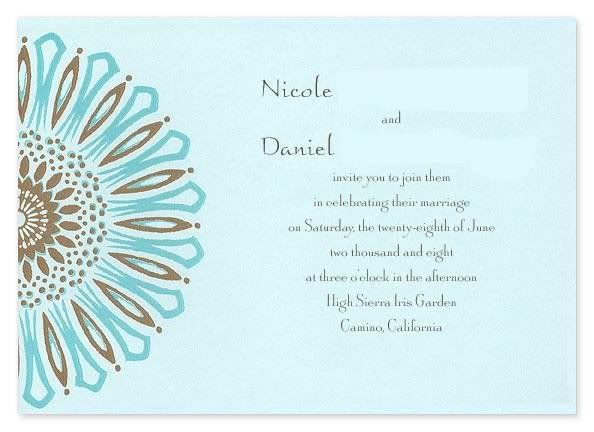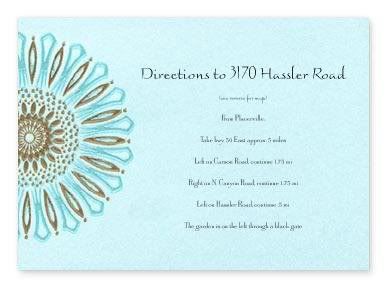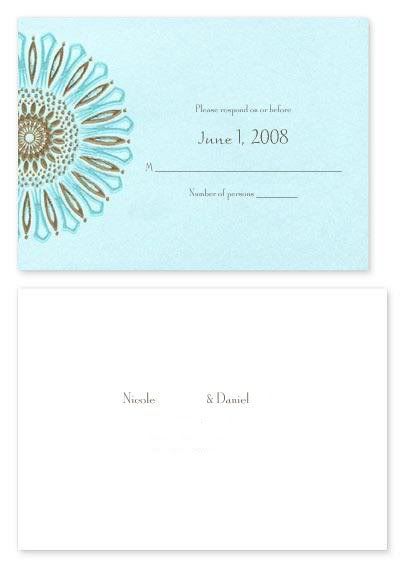 Posted on April 8, 2008 at 7:39 am