Just wanted to let people know that I found some for wicked cheap..  www.flashingblinkylights.com They have mini ones for $0.99! I'm excited.. before I could only find the white ones that cheap! Now I can get it in pink.. yay! And the shipping is only like $7.
What do you think of submerged white orchids in a rectangle vase with pink diamond confetti on the bottom with the pink led lights hitting the white orchid from the bottom? And a hot pink gerbera floating on top. It's like a mesh of so many pictures I've seen but this is the closest to what I want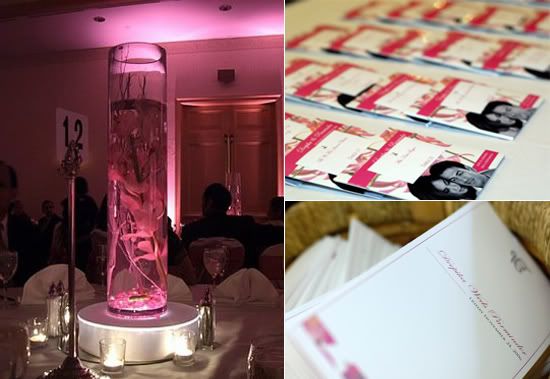 like this but in a square vase so there's more water and less flower.. I like the cleanness  and simpleness of the water.. I donno if I should dye the water pink? Any suggestions? And pink votive holders.. but then is that getting too pink? I want streamlined.. centerpieces are so hard... it's been way harder than the dress!
Posted on September 2, 2008 at 5:17 am