Monogram - check! Jewelry - check! Dress - CHECK!!!
I loved everyone's monograms so I got one too from PinkDesigns.  Nicole was awesome to work with.  Here are two of the monograms that I got -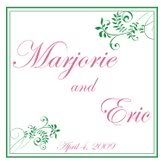 I also got my wedding day bracelet from DanaSaylorDesigns on Etsy... I love it so much that I'm ready to wear it already!  I also got my BM's jewelry from her too.  Here's my bracelet -
Oh and my dress came in today!!!  It actually came three months early... I wasn't expecting it until January since they said it might take 6 months when I ordered it in July.  I'm going to go and try it on next week.  I can't wait!!!
Posted on October 30, 2008 at 3:36 pm