NWR: WOW - Baby born at 16 Pounds in Texas
GOD BLESS THIS MOTHER, that is all I have to say!!!
LONGVIEW, Texas -- A Texas mom expected a big baby, but nothing like this: 16 pounds, 1 ounces.
Janet Johnson on Monday remained in an East Texas hospital after giving birth to what her doctors called one of the biggest newborns they've ever seen. She was awaiting word on whether her son, JaMichael Brown, ranked among the biggest births in state history.
"Everybody was amazed that he was so big," Johnson, 39, said. "I don't think too many people have heard of having a 16-pound baby."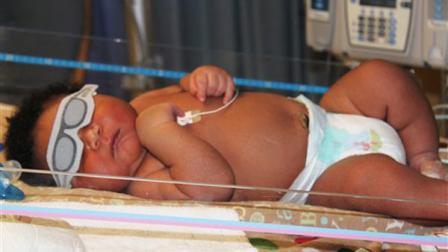 The rest of the story is here
Posted on July 11, 2011 at 11:00 am