Wooden Hangers. Need a lot of brides willing to share in wholesale cost.
I'm wanting to see if any other brides are planning on doing hangers for their BM's or themselves, or anything. I found a great price on wooden hangers with notches for dress straps, but there's 100 hangers to a box. I need 12-15. They would come out to .59 a piece plus shipping.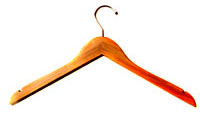 has a natural wood color that's a little lighter than this.
You can do any of the following DIY's or create a different one.
Posted on August 23, 2010 at 1:52 pm