Easy DIY Kitchen lighting update
We're putting the finishing touches on our kitchen after the big cabinet overhaul, and for some reason, lighting is always the hardest part of any room for me.
We had this recessed light over our sink, which is great task lighting, but kinda blah:
 (please continue to ignore the giant fluorescent eyesore in the room while I hem and haw about what to replace it with)
I wanted a pendant over the sink, and I've settled on oil-rubbed bronze for the fixtures in there (since it's on our dining, living room, and foyer fixtures). So a quick browse at Lowes turned up this kit: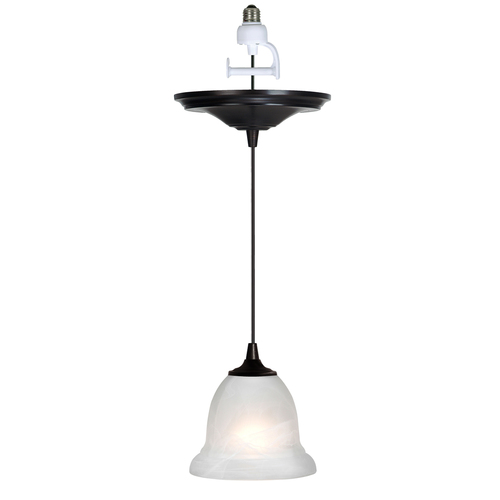 This allows for super easy conversion of the recessed light to a pendant, without having to change the electrical in the ceiling (phew!). But I hated the bell shade. At first I tried to replace it with a pretty seeded glass bell shade (which cast the coolest glow on the ceiling), but it looked ugly because the threads for the bulb showed through the clear glass. :(
I'd been pondering the school house look for the other kitchen lights, but the globe style of shade wouldn't work with this particular fixture because of the way it attaches to the shade. But I'm so glad that other people are able to think outside the box (because I certainly am not!), because I stumbled on this nifty little project, and a light bulb went on (no pun intended)!
I basically followed the instructions in the blog post (using a widemouth mason jar lid and a standard lid, and 4 little screws, all spray-painted ORB), and now we have this:
 (which I LOVE!)
up close and all lit up:
I still need to get some shorter screws to hold the globe (I just used what I had on hand).
The best part is that it's completely reversible if I want to go back to a bell shade (unlike 320*Sycamore, I didn't have to glue anything to the actual fixture because there was a spacer with the original pendant that screwed onto the underside of the lids and holds them up), and that I don't ever have to turn the breaker off to mess with it or take it down.
So that's one down!
Posted on September 16, 2011 at 5:25 am