Hi ladies! I know I've been away for a while, but the minute I developed this home design question, I thought of this group!
DH and I are convinced that our dishwasher is slowly killing us. There is always this nasty collection of filth on the top of the cups, glasses, etc. after we run the dishwasher, and we have to rewash everything. We finally decided to replace it, and we've decided in the next year or so to replace all of the appliances in a coordinating line.
I know that stainless steel is the "in" material for kitchen appliances, and I also know that it seems to have staying power (I think it's been "in" for over two decades now!)  However, I feel like I've seen it too much, if that makes sense. Every HGTV show touts SS, and every kitchen on Pinterest seems to have it as well. And, well, I think I'm bored with it! Plus, I hate the look of smudges and fingerprints, which I've heard is the usual with SS. I also wonder if it's nearing the end of its reign since it's been en vogue for so long.
Instead, DH and I are thinking about getting the new GE Slate line. It's a soft, matte grey that we think is really nice (and also defies smudges!) However, we're worried that it might end up looking outdated if it doesn't take off in popularity. Once we get the dishwasher, we're kinda stuck with getting the rest of these appliances to match. Also, we're worried that it might look cheap, like a knock-off SS. Since it costs as much as/more than a lot of SS appliances, we really don't want to look like we skimped.
Ultimately, I know that it comes down to what we like, but I would love to hear your opinions and perspectives. Should we stick to SS? Take a chance on Slate? What do you have? Do you like it?
Thanks for any input!
(I included a pic of SS next to Slate so you have a clue wtf I'm talking about ;)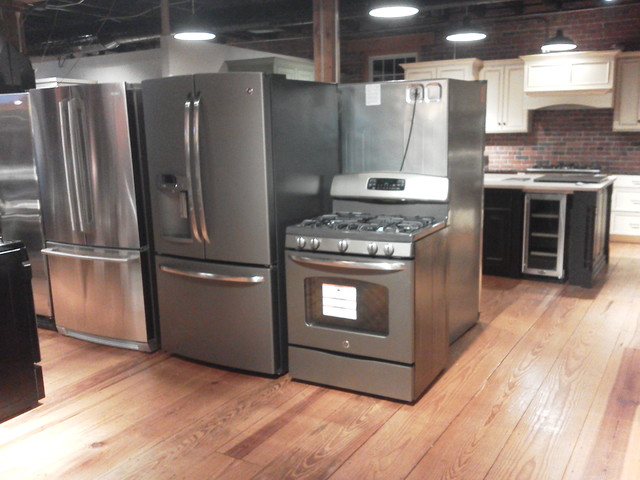 Posted on August 28, 2013 at 10:16 pm