For the "geeky" couple...
I saw this and I thought it was such a fun idea! They are pocket protectors with the place cards tucked inside. When I read about the bride who posted it, she explained how all the guests were putting them in their shirt/suit pockets along with misc. items including pens, utencils and whatever else they could find. What a riot that would be. Anyway, just thought'd I'd put it out there....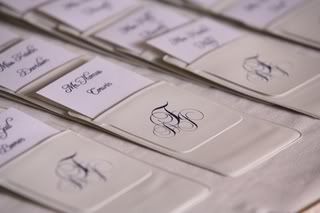 Unfortunately, we are dorky but probably couldn't pull off the geekness required for pocket protectors at the wedding...haha....I wish tho!
As for my own ideas, I'm thinking scratchers would be fun and/or personalized decks of cards (we love poker nights, vegas trips, and all things gambling). Or, simply making a donation of our favor budget to a favorite charity on behalf of our guests.
Posted on July 11, 2007 at 2:56 pm