Not crazy about wedding cake? Serve up one of these delicious alternatives at your reception
Maybe you're not a fan of cake. Or maybe you love cake so much that you can't choose just one type. Whatever the reason, couples today are looking beyond the traditional wedding cake when it comes to choosing reception desserts. Here, five options we love.
Cupcakes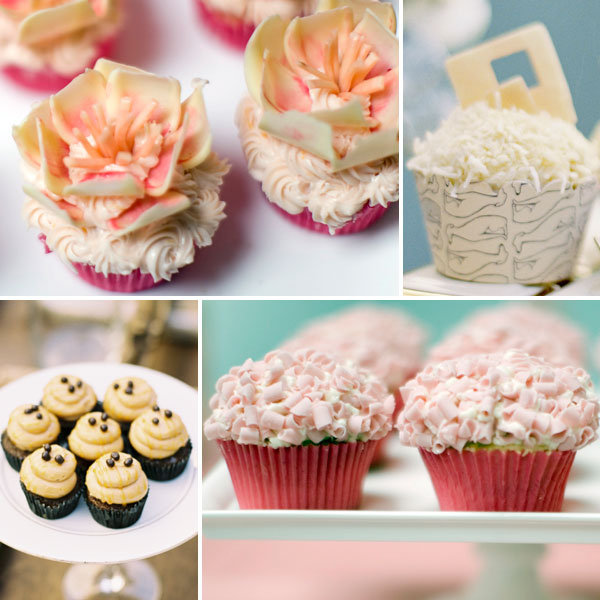 Cupcakes are a fun alternative to wedding cake. And they have a real advantage when it comes to picky eaters: You can mix and match a wide variety of flavors so that there's something for everyone.
Another plus: Cupcake towers become instant décor and focal points of your reception room. "We typically work closely with the event coordinator to create something cohesive to the overall theme through color, aesthetic and quantity," says Jenine Cravatt, president of Cupcakes Couture of Manhattan Beach, CA. "This includes not only designing the desserts in a specific color and design, but also incorporating props, linens and stationery pieces that fit in with the overall feel of the wedding."
Ice Cream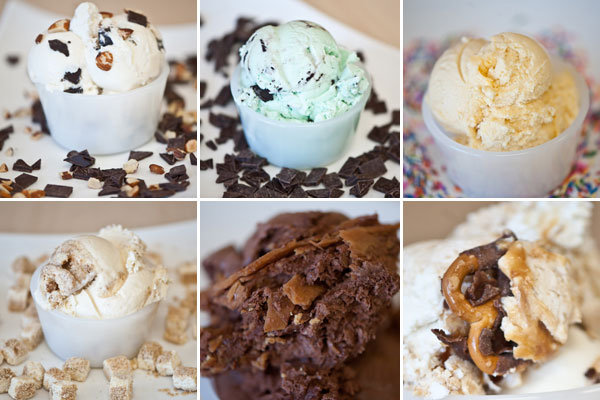 Guests of all ages will love a make-your-own-sundae bar. Splurge on gourmet ice cream for a truly memorable dessert. We love Cowabunga Ice Cream (and not just because of the name!), which is based out of New Jersey and ships nationally. Their secret recipe ensures that the ice cream isn't over-aerated, resulting in creamier, denser ice cream than the competition. Their inspired flavors include New York Cheesecake, Cake Batter, Rice Krispy Treat (vanilla ice cream with marshmallows and rice krispies), Almond Joy (coconut ice cream with almonds and dark chocolate chips), and Red Velvet.
Dessert Shots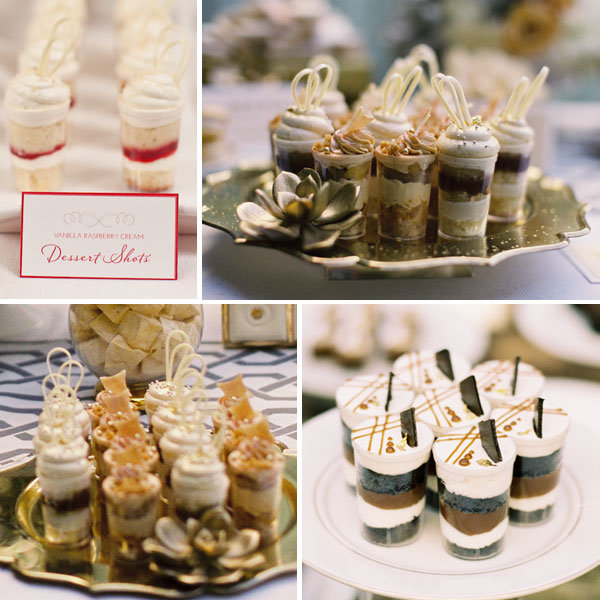 These delectable treats are as beautiful as they are delicious! Choose varieties like strawberry shortcake, chocolate mousse, New York cheesecake, key lime pie… any dessert you'd like can be turned into a dessert shot. Create an impressive arrangement of dessert shots on a side table with 3 or 4 varieties. Guests will love how easy they are to eat while walking compared to a slice of cake on a plate. These creations are from the lovely ladies at Cupcakes Couture.
Mini Desserts
As the last course during your reception, serve a platter of mini desserts—bite-size cheesecakes, French macarons, dessert shots, cookies, meringues, and cream puffs—to each table. Make sure there's enough to go around! We recommend picking 4-5 items and serving large enough quantities so that all guests can have a taste of each if they desire. The treats pictured here are from Cupcakes Couture.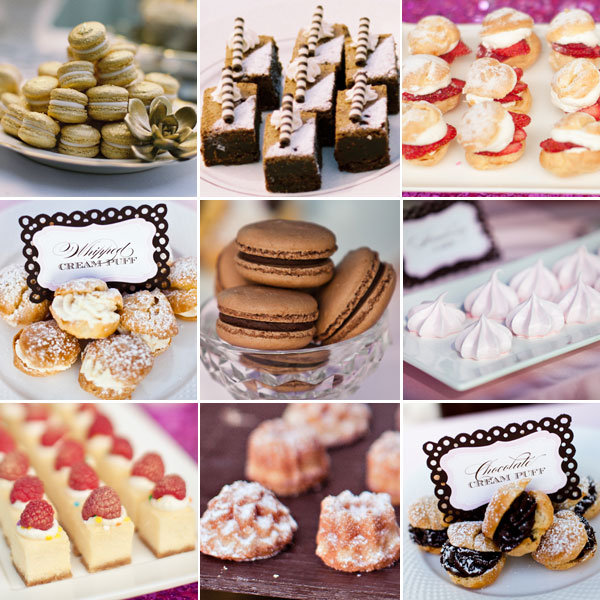 Dessert Bar
Do you have a major sweet tooth? Consider a dessert bar, which gives you (and your guests!) a chance to have a little bit of everything. Offer up bite-size treats, like mini cupcakes, cheesecakes, French macarons, creampuffs, cannolis, brownie bites, and chocolate-covered strawberries.
Choose your all-time favorites, or opt for the best of the season with these recommendations from Cupcakes Couture:
Summer: Fruit tarts, sponge cakes, and truffles featuring bold fruits like passion fruit, cherries, grapefruit and peaches.
Spring: Spotlight the season's best fruits with desserts including citrus, melon, apricot, strawberry and pineapple. Another favorite: Creampuffs.
Fall: Pastries featuring rich flavors like pumpkin, apple pie, ginger spice and cranberry.
Winter: Think comfort: winter mint and rich chocolate.