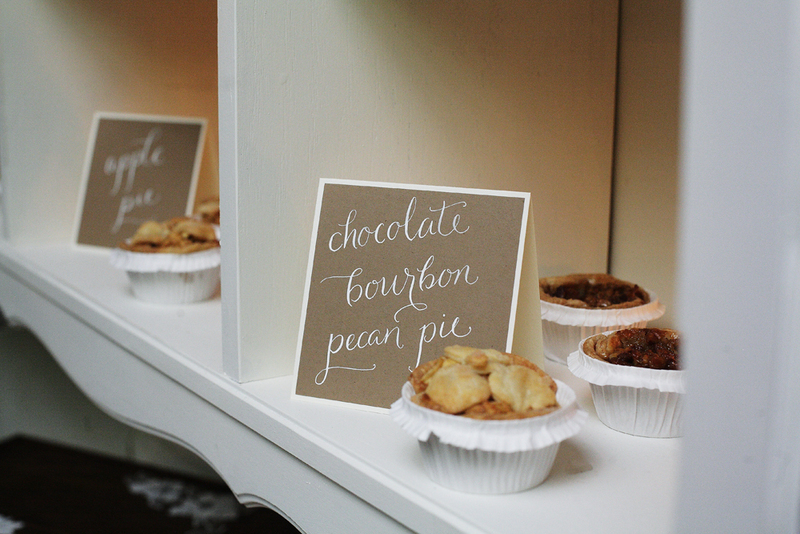 Photo by Jennifer Domenick of Love Life Images
The wedding cake is certainly the star attraction when it comes to sweets at a reception, but it doesn't mean you can't serve other desserts at the same time. From dainty cupcake pyramids to mini-dessert buffets, a wealth of sugary treats is available to accompany your dream wedding cake. A few suggestions include:
1) Common Desserts with a Twist
Taking well-known desserts and transforming them into creative delicacies is a grand way to pamper your guests. Why don't you select a couple of your favorite desserts, and add a special twist, such as:
Spicing up crème brulee with a mocha flavoring
Drenching unforgettable tiramisu with chocolate gouache
Serving marscapone cheese tarts with fresh whipped cream
Substituting ice cream for gelato or fresh-fruit sorbet
2) Cheesecake with Flair
Since this is your wedding, you probably want desserts with a bit of flair. Cheesecake is a popular dish, often drenched in strawberries with a dab of whipped cream. However, thanks to establishments, such as the Cheesecake Factory, you no longer have to settle for the same ol' flavors. Today, a wedding can trade in this strawberry-topped confection for the likes of pineapple, key lime, cookies and cream, orange cream, and Kahlua options.
3) Cultural Delights
If you have planned a wedding theme centered on a specific culture, there's no better time than now to whip out the German apple strudel, Danish dough ring cake, flan, Italian cookies, or sweet potato pie cups. If the bride and groom come from different backgrounds, it's exciting for guests to sample desserts from other cultures. I've seen some couples create adorable 'his' and 'hers' dessert buffets – situated side-by-side.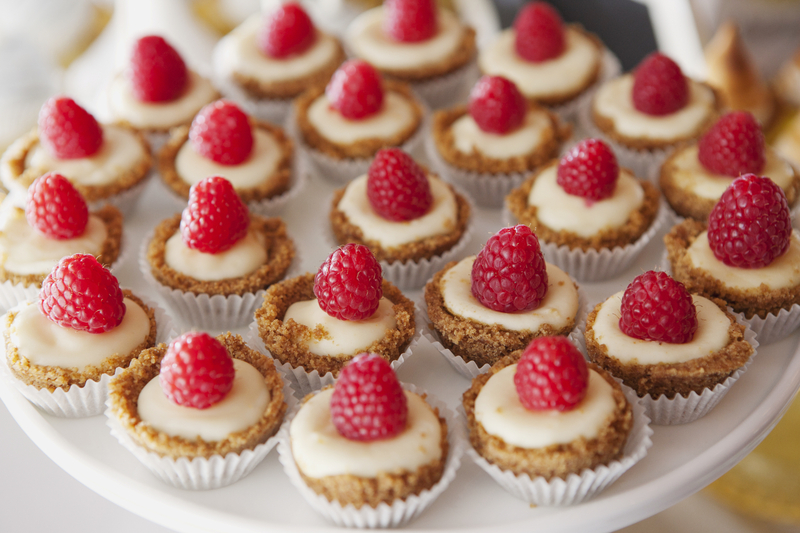 Photo by This Modern Romance
4) Desserts as Mini-Appetizers
While a large slice of apple pie sounds nice, it can also spoil the appetites of your guests. However, if you serve mini-sizes of your favorite desserts – you can keep their palates smiling with enough room for the main course and wedding cake at the end. Bite-sized delights may include: brownie bites with white chocolate sauce; mini ice cream sandwiches; chocolate balls; lemon tarts; and praline bites.
5) Dessert Drinks
Sometimes, desserts for weddings don't have to include an item that you can sink your teeth into, but instead a treat that you sip, slurp, and guzzle. Coffee drinks as desserts may offer a spiked treat for adults with the addition of Kahlua, Irish cream, crème de menthe, and Frangelico. For under-age guests, consider smoothies, root beer floats, and milkshakes – which often turn out a hit with all ages.