As your wedding day approaches, reviewing your choices and making decisions can be a bit confusing not to mention nerve-wracking. Your wedding day naturally brings on traditional thoughts and sentimental feelings, yet the independent woman in you wants to show off your contemporary side and your own special style.
When putting together the final touches of your reception, it may be tricky to express your unique personality and still please family and friends. So as you sample the dishes in deciding on a scrumptious feast, choose the right lighting and décor, and audition the best bands, you might also want to make sure that the bar can accommodate your guests with the classic as well as the most delicious and up-to-date libations.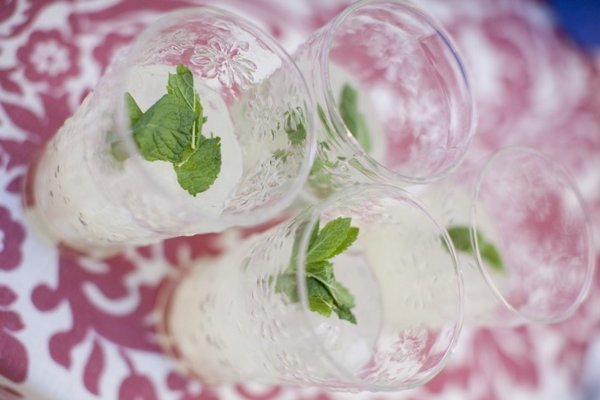 The Whisky Sours and Harvey Wallbangers are standards for Aunt Hilda and Uncle Rex, but check with your bartender about ordering the newest and hippest liqueurs, cordials and other "malternatives" so that no one is disappointed.
Though it may seem like a daunting task, it's well worth it to know your crowd and provide your guests with modish martinis and the coolest concoctions. Along with the right entertainment, satisfying the indulgences of your "jet set" can make or break your event. You may even get the credit for turning your family and friends on to their new favorite party drink!
Don't know where to start? Well, you came to the right place.
To make things easier for you, we dropped in on Zachary, Sarah and Raschele at the Revolution Rock Bar in Boston's financial district to conduct some research. While it was a tough assignment, we managed to compile a list of seven signature cocktails we believe will satisfy a variety of tastes and will keep your wedding reception talked about for a long time to come.
For those who may need a little pick-me-up at the beginning of the night, an Espresso Martini will definitely do the trick. If you like the taste and smell of coffee, this drink is perfect! Combine Stolichnaya coffee-flavored vodka, Kahlua, Bailey's Irish Cream and espresso. Then add ice cubes, shake and strain into a glass, and top it off with 4 floating coffee beans. After drinking one of these, you'll be wide awake and raring to go!
A lighter concoction that is sweet and tasty is a tall drink called the Lemonhead. To make it, add a splash of sour mix, a splash of Sprite, and a splash of pink lemonade to Smirnoff Citrus and a little Triple Sec, then strain it all into a chilled and sugar-rimmed glass.
One of the "berry" best drinks we sampled was called the Purple Haze. A wonderful blend of Stolichnaya Raspberry, Chambord, and cranberry juice topped off with a floater of champagne guarantees this drink to go down smooth but provide a pretty potent punch!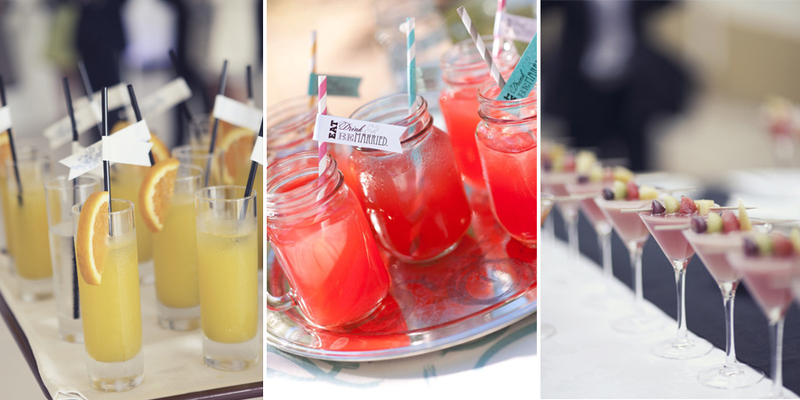 Another stand-out was the Berrytini. Now growing in popularity, this drink is made with Stolichnaya Raspberry, Sour Apple Rum and white cranberry juice. Shake and strain the mix into a martini glass, and you are in for a velvety treat.
A favorite of all of the cocktails tested was the Blaze of Glory (and not just because it's also a song by Jon Bon Jovi)! It's made with Effen Black Cherry Vodka, Chambord, Triple Sec, a splash of cranberry juice and sour mix. One rockin' sip and you'll be in heaven!
But we have to say that the drink that got the loudest applause was the Watermelon Martini. This combination of Midori, DeKuyper Watermelon Pucker, Citron Vodka and sour mix is the perfect choice for those who don't like an overpowering taste of alcohol but still want the effect. Finally, there's a martini that is classy, strong, and mouth-watering.
Last but not least we tasted the White Chocolate Truffle. This incredibly delicious, lip-smacking, dessert-like cocktail is made with Vanilla Vodka, Bailey's Original, Frangelico, Godiva White Chocolate Liqueur, a splash of Kahlua, espresso and a little milk. As innocent as this drink tastes, don't be fooled. It's delicious decadence with a big bang!
We believe our picks for top honors will make your wedding reception an event to remember. However, for those who don't like to take chances, some honorable mentions guaranteed to taste yummy and sound your alarm are the Mojito, the Margarita (available in many flavors), the Kamikaze, and the Woo Woo. And though they may not be new new, these cocktails are still tried and true.