Your wedding cake will be the star of the reception and the centerpiece of many, many photographs – no wonder so much importance is placed on choosing the right one! There's much more to the perfect cake than the number of tiers and the topper though – imagine the guests' disappointment when the most gorgeous wedding cake they've seen is also the most horrible tasting!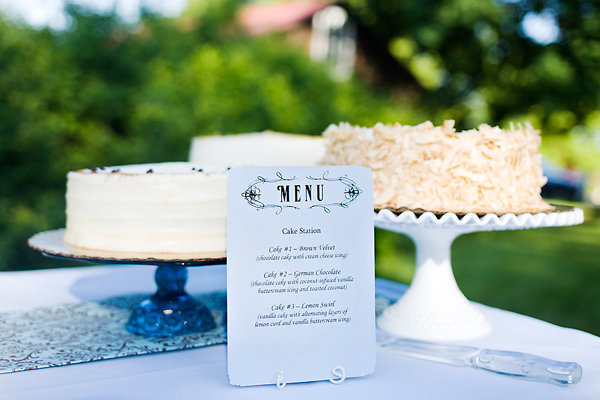 Photo by Punam Bean Photography
Thankfully, most bakers that specialize in wedding cakes offer cake testing to assure you that your cake will taste as good as it looks. Before you head out to the local bakeries for an all-day cake sampling adventure, there are a few tips that will make your decision easier without wasting valuable time.
What Would You Like?
It's good to rely on the expertise of a wedding cake creator –but if you have no idea what type of cake you want, the baker can't be much help. Before you visit the bakery, have a general idea of your dream cake. Do you want a traditional tiered wedding cake or something contemporary? Is there a particular style you really like or don't like? This sort of input will help the baker suggest the perfect cake.
Round One - Choosing a Baker
Save yourself some footwork by narrowing down the number of bakeries you visit. Search the internet for wedding cake designers in your area. Some will have websites where you can gather most of the information you need aside from tasting. Others may require a phone call before you decide to make an appointment. Ask your friends and family for recommendations as well – word of mouth is usually the most reliable form of advertising.
Visit cake shops that:
Create the style of cake you have in mind.
Allow you to browse photos of cakes they've designed.
Offer samples of various frostings and cakes to help you choose the best flavor.
Bake the cake fresh just before the wedding rather than freezing beforehand.
Round Two - Choosing a Baker
Make appointments with three or four of your favorite cake designers. Browse their portfolios and listen to their ideas for your special day. Taste different types of cakes and icings available and discuss the best flavors for your location – some frostings may begin to melt if your reception is outdoors. Finally, discuss prices, options, and payment policies before heading home to make your final decision.
Round Three – The Final Decision
You've met with the bakers and have a good idea of what each can offer for your wedding cake. You'll also want to consider your budget and eliminate any designers that are not realistic. If you're still having trouble making a decision – whether it's the type of cake or the baker to create it – schedule one more visit to test the cakes once again.
Bringing along the groom-to-be or your maid of honor can be a big help in choosing the best flavors. Some bakeries offer a test cake, a smaller version of the cake you're considering, to help your decision. Choose a cake that's moist with a flavor that will appeal to most of your guests, without overlooking the style you've been dreaming about.