While some women have been choosing their bridesmaids since they first caught sight of a wedding dress (like at age five)...others tend to gravitate to close companions, sisters, and favorite cousins. However, choosing bridesmaids can affect some of the details of wedding and you never want to settle for selecting someone just because you feel obligated. This is your special day and in order to make sure that it unfolds accordingly, don't let others put pressure on your decisions.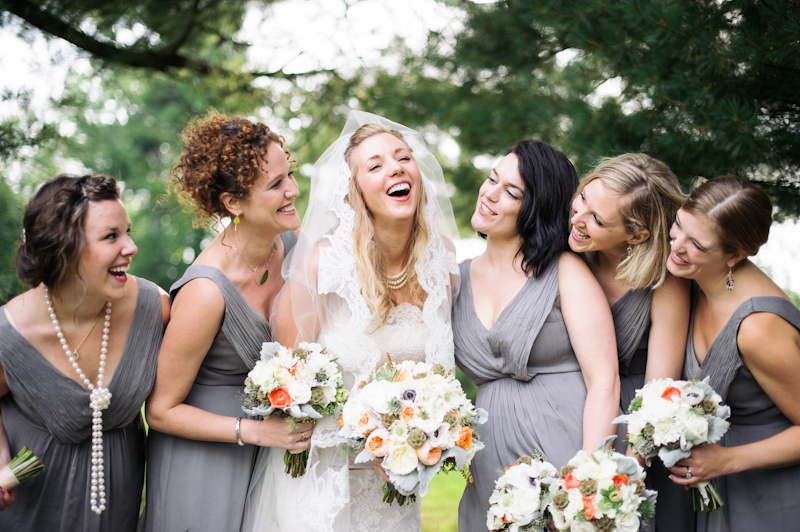 Photo by Paper Antler
Choosing the Number of Bridesmaids
For some, limiting the number of bridesmaids means cutting the overall wedding costs for flowers, dresses, shoes, accessories, gifts, luncheon costs, and the rehearsal dinner. You should research potential costs before choosing bridesmaids to make sure you have enough money for their inclusion. Also, never ask a friend to become your bridesmaid if your only reason is that you were part of her wedding.
Choosing the Right Bridesmaids
A bridal party usually consists of between two to 12 attendants. Who do you want to turn to when important decisions arise; your final days as a bachelorette near; and you need a shoulder to cry on? If you want a drama-free wedding, I suggest considering bridesmaids that embody the role of the perfect 'little helper.' A few qualities to consider, include:
Cooperative: Since this is your special day, chosen bridesmaids should be willing to wear a dress that may not look flattering or appeal to their personal preferences. While you can always listen to the concerns of your bridesmaids, they shouldn't demand the type of dress they will wear.
Reliable: There will be fittings, rehearsals, and of course, the ceremony to tend to. Choose bridesmaids that will arrive on time and are ready to shine.
Helpful: Bridesmaids that are willing to help out at every turn will make your life much easier. Consider the women in your life most likely to assist in shopping, running errands, and handling pesky wedding details.
Out-of-Town Bridesmaids
When choosing bridesmaids, there is another consideration to keep in mind. What additional costs or arrangements are needed when you choose an attendant that lives out of town? For starters, she's going to need a place to stay when she comes to try on dresses and/or attend other wedding-related get-togethers. It is common for the bride to foot the bill for out-of-the-ordinary expenses connected to the wedding.
Overall, bridesmaids are there to help a bride keep her sanity while traveling the road heading towards matrimony. Who will share this important journey with you?