With the raging costs of catered food and professional guidance that comes with a hefty price, planning a DIY wedding might not be such a bad idea. However, before you make the commitment to handle all of the details (no matter how large or small) on your own, you should consider the following components that go into planning a DIY wedding.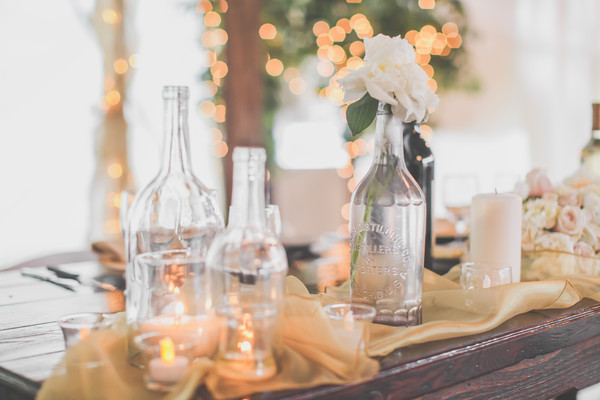 Photo courtesy of Port Charlotte Florist
DIY Wedding Makeup
Pros: You've been doing your makeup all of these years and it just doesn't seem right to pay someone else to brush on the bronzer and create pouty lips. DIY wedding makeup allows you to take all the time you want dabbling in various color combinations and techniques.
Cons: Yeah, you've been doing your makeup all along, but you can't quite recall the last time you actually got a compliment on your lip liner and eye shadow skills. Since your wedding is one of the most important days in your life – you may want every detail professionally in place.
DIY Wedding Flowers
Pros: With a few rolls of wire, twine, bold-colored ribbons, Baby's Breath, and fresh blooms, you will soon travel down a road filled with creativity. Many DIY wedding books highlight various methods of accomplishing beautiful centerpieces and floral arrangements for your reception. This adventure also makes a fun project for friends and families that wish to help out. View ideas for DIY Wedding Flowers »
Cons: Making centerpieces and filling vases with long-stemmed roses for your reception are not the only tasks that call for handling flowers. If you aren't ready to create your bridal bouquet, boutonnieres, and other necessary items, you may want to ask for the assistance of a professional florist.
DIY Wedding Reception Food
Pros: A bride planning an intimate gathering of family and friends will benefit the most from DIY wedding food. Preparing hors d'oeuvres, the main course, sides, and dessert for a small number of people usually winds up much cheaper than hiring catering services. Lucky brides don't even have to lift a finger in some cases when family members offer to handle this task.
Cons: Will you honestly be able to feed a guest list consisting of 200 people? Catering your own event may also mean enlisting the help of relatives or succumbing to a potluck dinner affair. While some couples can entertain guests with an outdoor BBQ, are you prepared to keep in line with your wedding theme if you provide DIY wedding food?
DIY Wedding Music
Pros: Is it really necessary to hire a DJ or subject loved ones to a cheesy band? Take complete control of the music played at your DIY wedding by utilizing a collection of pre-made CDs or an iPod with an endless playlist.
Cons: However, this means someone will have to periodically check in on the music and sound system. Also, there is the business of requesting songs – it will take a little bit of shuffling to satisfy such wishes.