Without a marriage license, your wedding will be nothing more than an expensive party. The license is the document that will make your vows legal and official. The requirements are not the same everywhere – some states may require blood tests first and some may call for a waiting period before the license is valid - so now is the time to learn all you need to know about obtaining yours.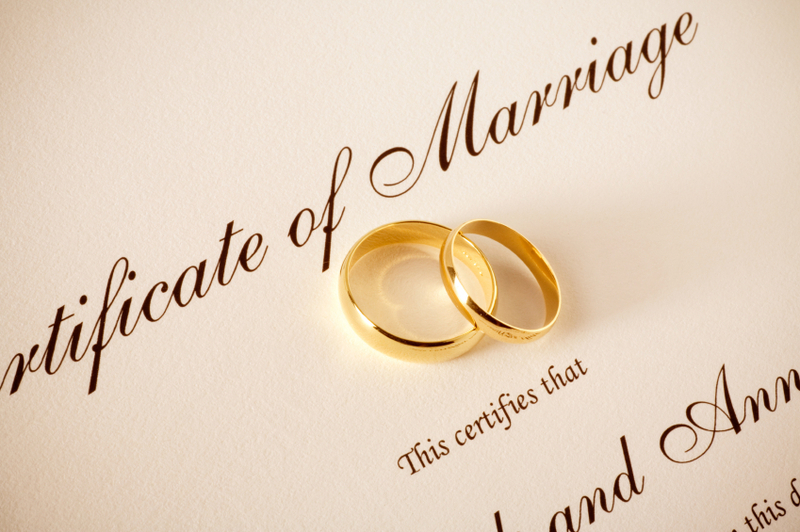 Marriage License Basics
The county where the wedding will take place, typically at the local city hall or possibly the office of the clerk, must issue the marriage license. Usually, you and your fiancé will both have to apply for the license and in some areas an appointment may be needed. Timing is very important. A marriage license is only good for a specific number of days, depending on the state, and you'll need plenty of time to gather all the necessary documents.
Getting Married in the US
In most states, a marriage license is good for 30 to 90 days and medical exams are generally not needed. A few states still require blood tests and most need parental consent for applicants under the age of 18. In some cases, a waiting period may have to be observed but most states have done away with this to encourage wedding tourism. Both you and your fiancé will typically need:
Driver's license or picture ID.
Birth certificate to verify age.
Proof of dissolution for any previous marriages.
Some states may also require a social security number and a second photo ID.
A marriage license in the US costs between $20 and $90 in most areas. You can usually get married in any state, regardless of residency, but you may pay a little more if your wedding takes place out of town. Be sure to check the requirements ahead of time for your particular state.
Outside the US
If you'll be getting married outside of the US, you will still need a marriage license. Again, the requirements vary depending on the location but most countries ask for the above documents as well as your passport. Some areas may need an official copy of your birth certificate, translated into the native language.
Residency requirements are much more varied outside of the US. You may need copies of boarding passes and receipts that verify your date of arrival and in some countries, you will need to be in the area for a specific number of days before you can apply for a marriage license. Review the application process carefully before the wedding date so there are no surprises that could ruin your special day.
Once your marriage license is ready, keep it in a safe place until your wedding day. Once the ceremony is over, the license will be signed by your officiate and he will forward it to the appropriate office. Give yourself plenty of time to get copies of the necessary documents and keep waiting periods in mind when you schedule an appointment to get your marriage license.