Your vision of your wedding day is absolutely perfect – complete with smiling bridesmaids, charming groom and breathtaking décor. No matter how much planning and scheming you do to make your ceremony perfect, though – you simply can't control what Mother Nature has in store for your big day. Here are some tips and tricks that will help you prepare for bad wedding weather.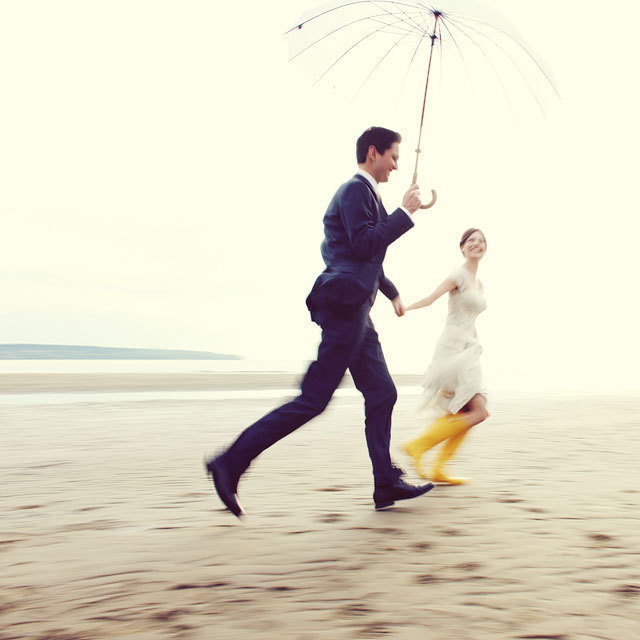 Photo by Lucida Photography
Outdoor Wedding
If you will be having an outdoor wedding, it's important that you have a plan B if bad wedding weather should come your way. The last thing you want is for all of your guests to become soaked and dripping during the ceremony. There are several options you can use to protect your guests and keep the ceremony going.
Tents – if you live in an area of the country where rain showers or thunder storms can visit unexpectedly, tents are a great way to keep dry. There are even massive tents available which would accommodate the entire reception. The thing to remember about this option is that it can get pretty hot under those tents and pretty expensive as well.
 

Moving Indoors – having a plan B is pretty important if you want your wedding to continue without many problems. If you'll be having your wedding on the grounds of a hotel or mansion, can you move indoors if need be? Speak with the staff and determine what is appropriate if the need should arise– chances are they've dealt with bad wedding weather before!
 

Alternative Venue – although this is a bit of a frustration and can cost an arm and a leg, you might consider having an alternative venue for the reception if it looks like it will rain during the ceremony. You need careful planning in advance so you can easily move to the alternate location on the day of the wedding if need be.
Other Ways to Prepare for Bad Wedding Weather
Think about your wedding location and time of year and consider what sorts of bad wedding weather you may have to deal with. For instance, if you choose to marry on a beautiful beach, it could probably get pretty windy. You may want to plan an updo rather than leaving your hair down, and provide some sort of shelter. If a rather large breeze picks up, you don't want sand flying into your guests' eyes and hair.
On the other hand, it has been said that rain on the wedding day ensures that the bride will shed no tears during her marriage. If it does rain on your wedding day, just remember that rain is considered a blessing rather than a bad omen; contrary to popular belief. If you plan for bad wedding weather early in the planning, you can be prepared to switch things up at the last minute and still enjoy your beautiful day!