It's quite common for brides and grooms-to-be to want to share their wedding with their closest friends and family. However, many want to invite others as well – such as business partners, old high-school or college acquaintances and even important people within the community. While it's charming to want to include all of these people, one important part of wedding planning is to create realistic guest lists. Here are some things to consider when creating your guest list.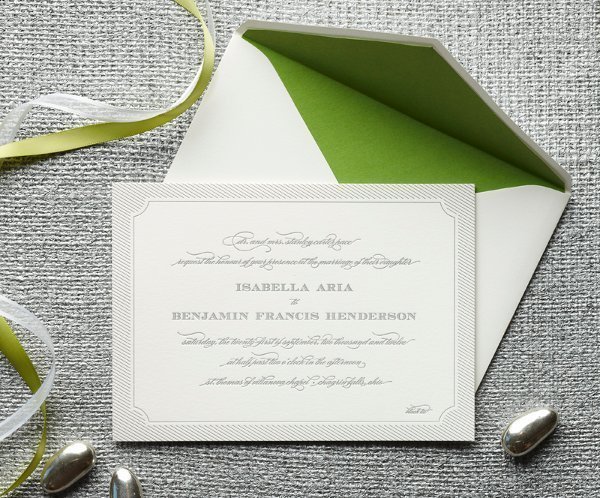 Invitation by: The Claremont Collection
Location 
If you've chosen a beautiful, intimate location for your wedding – such as your church, a small ballroom or garden – inviting a ton of people might not be practical. You will need to consider whether there is enough room for guests to move around comfortably, mingle and enjoy themselves. The last thing you want to do is pack your guests into your wedding and reception like sardines in a can!
If you've chosen a very large location for your wedding and reception in anticipation of a great number of guests, you will have more liberties with your guest list. Just a few larger-scale locations include a rented mansion, beachside wedding location or a hotel large enough to accommodate many guests. You may want to ask for the capacity before booking a hotel or mansion.
Wedding Budget
When considering realistic guest lists, the wedding budget is the first thing that comes to mind. It will certainly be affected by the number of guests you invite. It's important to remember that as the guest number increases, so do your wedding costs. Just a few things that will be pricier for a large amount of guests include:
The food served at the reception.
Wedding favor costs.
Drinks - if you plan on having an open bar.
Invitation costs.
Catering, servers and wedding planning fees.
If you have a very large budget or unlimited funds available for your wedding, it may be alright to invite a slew of guests. However, most brides-to-be must budget carefully in order to stay out of debt while planning their weddings. Thinking of the most realistic guest lists is one important way to do this.
It's also worth mentioning that if someone else is paying for your wedding, such as your parents or the groom's parents – you may want to keep it affordable for them. By taking a close look at the location and your wedding budget, you can come up with a few different scenarios for realistic guest lists and then choose the final number of guests that will attend your wedding!