With a beach wedding reception, it's OK to wear a sundress and surrender to the swish of sand between your toes. In most cases, it's time to say goodbye to restricting formalwear and 'hello' to a casual celebration with the ones you love. From roasting marshmallows and sipping champagne by a bonfire to releasing Chinese lanterns into the sea, beach receptions are downright fun!
Why Choose a Beach Wedding Reception?
Perfect for carefree and laidback couples
The ocean air and relaxing waves
Ties into some honeymoon plans
Fits a tropical wedding theme
Beautiful sunsets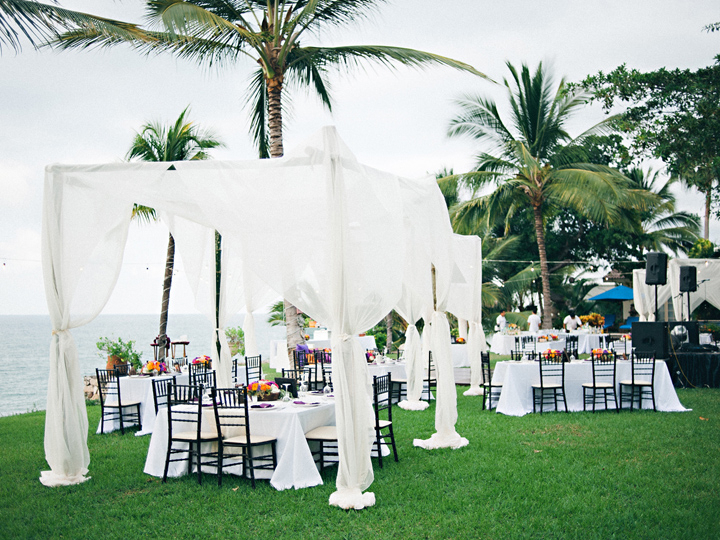 Photos by Jillian Mitchell
Beach Wedding Reception Ideas
Tap into the versatility and beauty of a beach wedding reception site's scenery and natural elements by creating centerpieces with romantic sandcastles decorated with seashells. Why not adorn the center of beach reception tables with candles tied with turquoise ribbon and situated in the middle of gold-trimmed ivory plates surrounded by white chocolate seashells? You could also use mini-fishbowls filled with blue-tinted water to hold bouquets of hydrangeas and white peonies.
The Pros and Cons of a Beach Wedding Reception Site
Pros
There's nothing more romantic than holding onto the one you love, as the fiery glow of the sun disappears behind open waters. Take a deep breath in, as it's your special day and you are surrounded by the calm waves of nature. A beach reception is a great idea for laidback couples looking for a casual affair. Guests can let down their hair in comfort, slipping into flip-flops and leaving high-heeled shoes at home. You'll also save money in the long run, as a beach reception typically doesn't serve a catered dinner. Guests with children will also feel comfortable bringing their little ones along to enjoy your celebration.
Cons
Temperatures are always a bit cooler when situated close to a body of water. A beach wedding reception is always in danger of feeling the chill of brisk winds and sustaining unexpected changes in weather. Plus, when the sun sets – you should plan on bringing out the sweaters or arrange for heated tents. It also wouldn't hurt to have a Plan B if Mother Nature decides to interrupt your party. When it comes to your guests, some may not feel comfortable taking off their shoes and kicking back in a beach setting, especially if they are afraid of water.
A beach wedding reception also requires permission from local authorities; so don't overlook the importance of obtaining a permit for large numbers. You may also run into a few rules of the beach, which could involve the use of candles, playing music at night, open fires, and how long you can party. Since you're outside, don't forget about bugs and beaming rays of sun. Make sure to supply guests with plenty of insect repellant and sunscreen.