While it is customary for the parents of the groom to host a rehearsal dinner for the married couple-to-be, anyone can step up to the plate for this event, including the beaming duo themselves. From choosing a suitable location and requesting a special menu, what would you like to see at your rehearsal dinner – an event that lets you get more acquainted with the in-laws, share laughs with the wedding party, and express your gratitude for support. A couple of rehearsal dinner ideas are found below: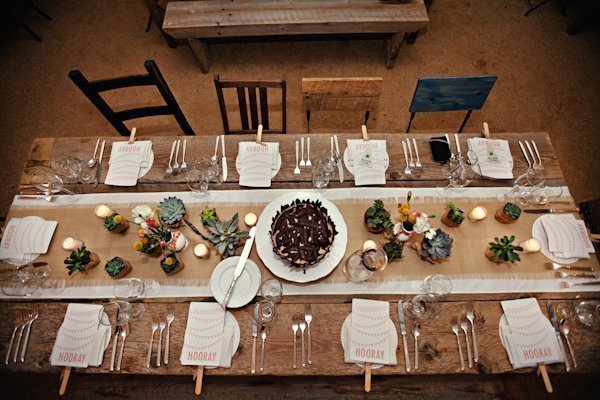 Photo by: Atelier Pictures
What is a Rehearsal Dinner Anyway?
For some brides in the beginning stages of wedding planning, a rehearsal dinner is the last thing on her mind. She's worried about picking out the right cake flavor and hiring a wedding photographer. However, following the wedding rehearsal, a gathering of family and friends often takes place the night before the actual wedding is scheduled to take place. Keep in mind that this is not a requirement. There is no set-in-stone rule that says you have to share a meal with the wedding party before your big night. It is on the other hand, a nice way of saying thanks and getting to know everyone a little better.
A Rehearsal Dinner: What to Expect
Eating is not the only thing that takes place during a rehearsal dinner. The bride and groom will thank their loved ones and toast their families, as well as the wedding party. Informal toasts are also passed along at this time. It's not uncommon to see a 'mini roast' of the bride and groom, where silly stories and embarrassing memories are retold. Depending on the location, activities, games, and icebreakers take place. Some families join in on some sort of activity, such as shoot darts or play a friendly game of poker. Sometimes, bridesmaids and groomsmen gifts are given out. 
Location & Decor
A rehearsal dinner can take place in the backyard of Mom's house or in the reception room of a four-star restaurant. Some families gather for a cozy picnic or BBQ in the park. Depending on the location, the rehearsal dinner could highlight the theme of the wedding or play off of your honeymoon destination. If allowed, a slideshow of memories adds a special touch. Parents may opt to bring in photos of the bride and groom from their childhood days.
If you are planning a rehearsal dinner in the comforts of your own home, consider the following suggestions for making this mini-celebration a success:
• Mixed drinks and 'virgin' alternatives
• Champagne punch
• Appetizer platters
• Entertainment: music and board games
• Disposable cameras
• Guestbook