Let's face it – flowers are seasonal and when you want a June bloom in the middle of the wintertime, you're going to have to pay a hefty price or find a suitable alternative. With the help of cutting-edge commercial growing techniques, it is possible to enjoy a white tulip in December. However, no matter how much advancement has been made, there are times when requesting seasonal flowers outside of their peak growing period will not fit into your plans. I think it's time for a little lesson on seasonal flowers, don't you?
Knowing the best time of year for seasonal flowers can save a great deal of frustration when it comes time to choose your bridal bouquet or narrow down choices for your reception flowers. Luckily, a number of flowers possess a longer season or provide year-round choices. Just keep in mind that the price of seasonal wedding flowers is always lowest. They also ensure the best quality when purchased within their normal flowering season. Year-round flowers to keep in mind include:
Roses
Orchids
Tropical blooms
Lilies
Anthuriums
Gerberas (gerbera daisies)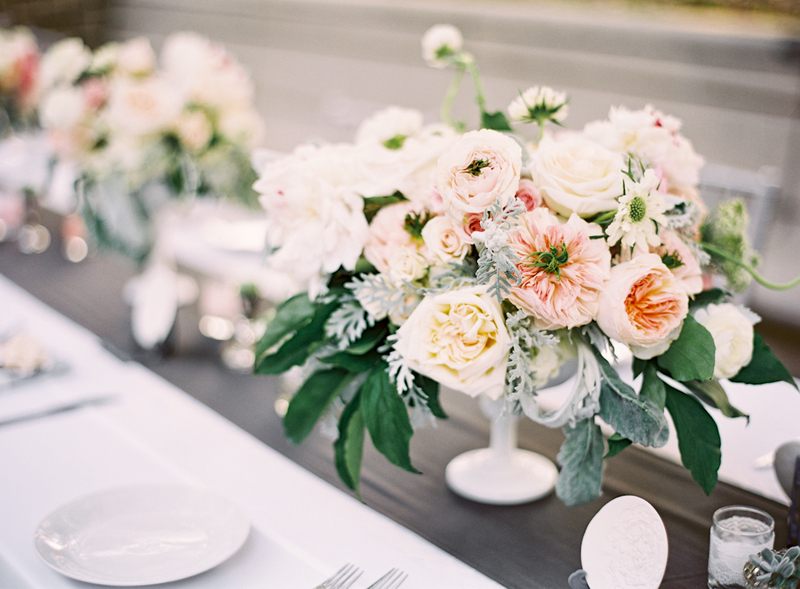 Photo by Jen Huang Photography; Flowers by The Nouveau Romantics
Seasonal Flowers: Summer
The summertime brings a multitude of seasonal flowers that a bride may select. This is your chance to browse blue delphiniums, gladioli, and columbine (aquilegia). Look for irises that appear in late spring and continue growing throughout the summer. Roses are quite popular this time of the year with a variety of shades – ready for the bridal bouquet of your dreams. Summer themes work well with a mixed bouquet containing roses. Additional summer seasonal flowers for weddings include snapdragons, cockscomb, and nigella (often called Love-in-a-mist).
Seasonal Flowers: Spring
Tulips and fragrant hyacinths never looked better than in the springtime. These seasonal flowers are popular choices for weddings, alongside the large petals of pink peonies. Adding a hint of yellow to a bridal bouquet is the forsythia, which looks quite nice surrounded by Lily of the Valley. You should also keep in mind that the perfumed delight and delicate nature of Lily of the Valley carries a very short season – around April and May. They are also the most expensive of seasonal flowers for weddings.
Seasonal Flowers: Autumn
The autumn bride looking for seasonal flowers may take advantage of fiery oranges, bright yellows, and deep reds. Ranunculus usually makes an appearance – the genus of plants that includes the buttercup. A centerpiece utilizing Chinese lantern fruits (Physalis) can create a rather appealing display. To create eye-catching bridal bouquets and interesting centerpieces, consider the intriguing shape of the dahlia.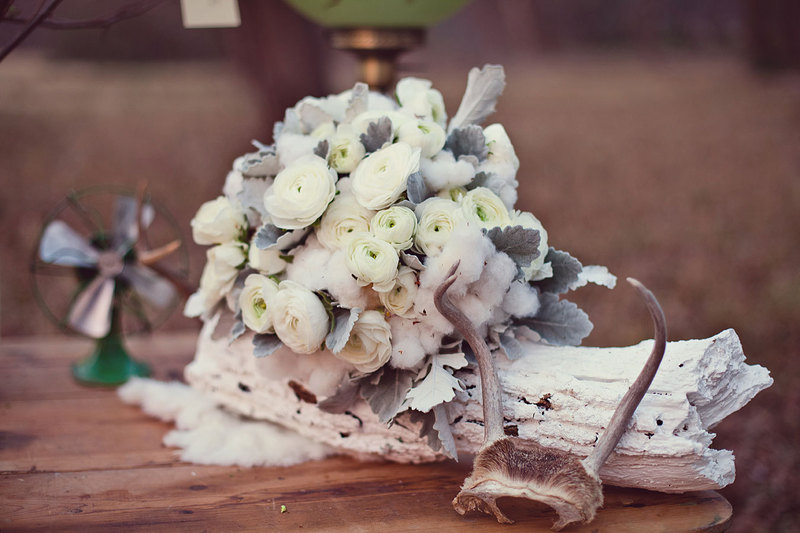 Photo by n.Barrett Photography, Floral Design by Bows & Arrows
Seasonal Flowers: Winter
Don't worry about not finding an assortment of seasonal flowers for a wedding set for the wintertime. For instance, cymbidium orchids are available all year round. Tropical flowers also bring flashes of color to weddings surrounded by snow. For the bride planning a Christmas wedding theme, consider dotting reception tables with amaryllis and holly. When adding finishing touches, consider red dogwood or the calm of pussywillow stems. Other wintertime blooms include red roses, carnations, calla lilies, poinsettias, and evergreens.