While a lot of focus is placed on the bride's wedding attire, there are a lot of decisions to be made for the groom as well – such as, what will the groom wear?  Most people think 'tuxedo' or 'suit,' but there are a slew of ideas when it comes to what the groom will wear.  Here are a few things you should consider when planning your soon-to-be husband's wedding attire.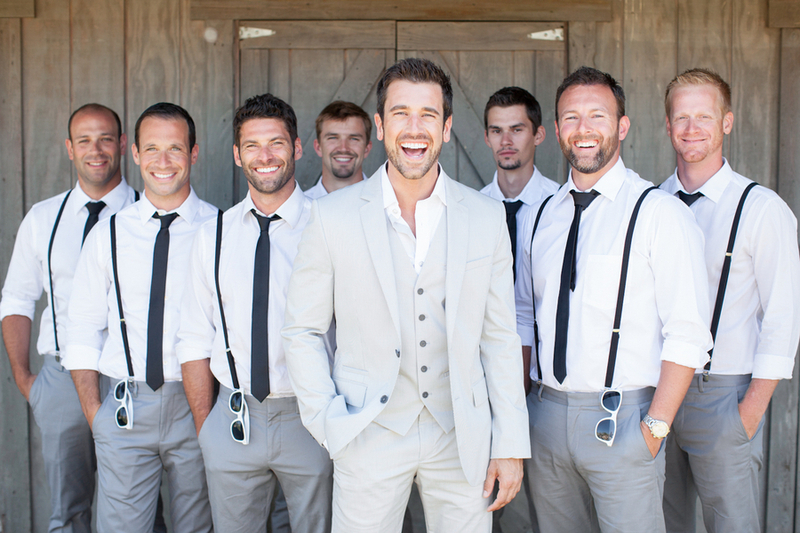 Photo by Shaun & Skyla Walton, Groom's Attire by Express Men
Will the Wedding be Formal or Informal?
One of the most important factors in deciding what the groom will wear is whether the wedding will be formal or informal, and to what degree.  For instance, if your wedding will be very formal, your groom should probably go all out, including:
Tuxedo

Tie or Bowtie (depending upon personal taste)

Vest

Cufflinks
This ensemble provides a nice, formal style without creating the stiff look that many grooms are opposed to.  By choosing colors for the vest and tie which complement the bride's gown, the look can be very stylish and dapper.
If the wedding is more informal, but you want your groom to stand out from his groomsmen and still appear very stylish and charming, you can mix it up a bit.  For instance, rather than wearing a tuxedo, your groom can go with a formal suit and tie.  With or without the vest, this look can be very charming.
What Will the Groom Wear for a Destination Wedding?
Destination weddings and informal weddings are a lot of fun because you can break away from the traditional.  For instance, for a destination wedding to Hawaii or Jamaica the groom may be able to wear very informal clothing which still looks handsome and proper.  For this situation, you may want to mix up the beach and tropical elements with dressy clothing.  Here are a few ideas:
Dress Slacks or Khakis

Short-Sleeve, Collared, Button-Up Shirt

Bare Feet or Sandals

Tropical or Hawaiian Shirt
If you will be wearing a beautiful but more casual dress, your groom can get away with the short-sleeved or tropical shirts and khakis.  Bare feet are wonderful for a beach wedding, but this is a matter of your personal preference and taste.
What Will the Groom Wear for a Themed Wedding?
For a themed wedding, deciding what the groom will wear can be a lot of fun!  Sometimes, working around a specific theme can make the decision a lot easier.  For instance, if you will be having a fairytale wedding, the groom can wear a classic black tuxedo with a buttoned, collared shirt, vest and gloves.  Or, he can don a handsome velvet jacket to marry his princess!
Spend some time with your groom, determining what he's willing to wear and what he's definitely opposed to.  By considering these questions and looking at different groom attire online and in magazines, you can find something that both you and your groom will love!