Ceremony readings are a special part of your wedding. Readings are sentimental and romantic – many couples save a print copy of their readings in their wedding album or in a scrapbook. Readings are also a wonderful way to personalize your ceremony by choosing something that reflects your personalities and love for one another - you can even write your own!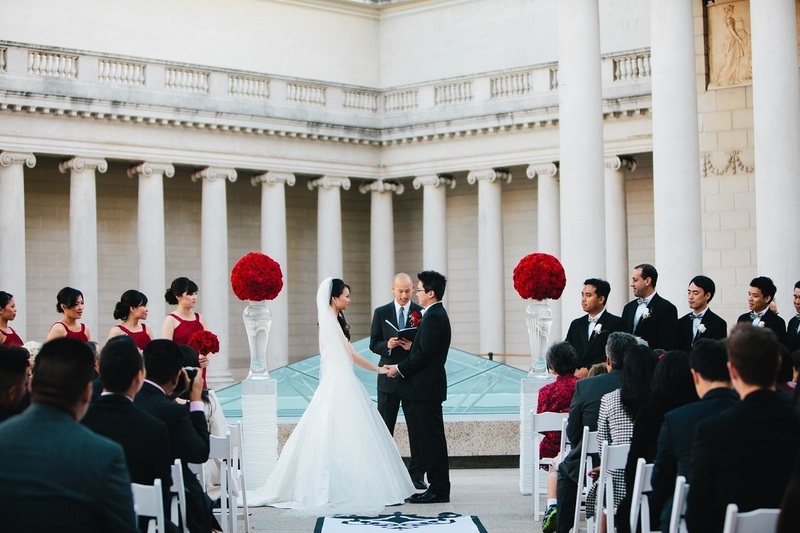 Photo by Jerry Yoon Photography
 
Reading Rules
There are really no rules when it comes to selecting the right readings. It's your wedding so it's ultimately your decision. The pieces you choose should fit your wedding theme and should signify both of your personal feelings. Some couples have a single reading, usually early in the ceremony after the wedding party enters, and many have a second reading later in the wedding, following a musical solo or just before the ring exchange.
Ceremony Reading Ideas
Inspiration for the perfect reading can come from just about anywhere – poetry, classic literature, religious verse, song lyrics, and more. The trick is to find something that expresses your thoughts and still suits the atmosphere of your wedding.
Traditional
Traditional weddings work best with traditional ceremony readings. Religious passages are quite popular, including the 1 Corinthians Love Poem (Protestant), the 7 Blessings (Jewish), and traditional Irish blessings. Many cultures have special ceremony readings you may consider, depending on your background. Traditional, but nonreligious wedding couples often choose excerpts from classic poetry – Shakespeare's Sonnet 18 and How Do I Love Thee by Elizabeth Barrett Browning.
Romantic
Romantic poetry is usually a touching choice for any type of ceremony. A few suggestions include:
"Hope is the Thing With Feathers" by Emily Dickenson

"My True 

Love" by Sir Phillip Sydney

Various excerpts from "The Prophet" by Kahlil Gilbran
Custom, Personal, and Unique
Many brides-to-be are opting for something different to create a truly memorable ceremony wedding that represents their own unique relationship. If this sounds like you, the possibilities are endless but here are some ideas to jumpstart your creativity:
Song lyrics

. Select a song that is meaningful to your relationship with words that reflect your own feelings or values.

Movie or book excerpts

. A romantic or significant quote from a favorite movie or book can add a personal touch to your wedding ceremony.

Write your own

. A truly heartfelt wedding ceremony reading is one that is personally written. Either you or your fiancé may write a love poem, the two of you could write an essay together describing true love, or you might use a poem written by a friend or family member.
Your wedding ceremony readings are a meaningful part of your big day so take the time to choose passages that say what your heart feels.