You've spent lots of time choosing the right music for your wedding and reception. After all that planning, the last thing you want to hear is a song you hate. Create a 'do not play' list for your band or DJ and you'll never have to regret your reception music later.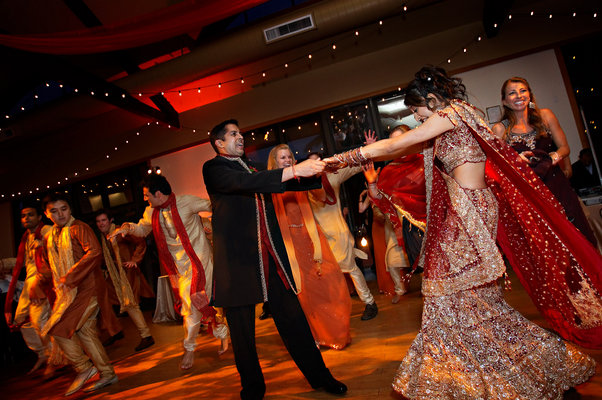 Photo by Geoff White Photography
What is a 'Do Not Play' List?
Like the name implies, your 'do not play' list is a collection of the songs or types of music that you would rather not hear during your reception. Your DJ may request a 'do not play' list before the wedding; if not, just include it along with your traditional dance selections and the DJ will honor it.
How to Create Your List
My normal wedding planning advice applies to your 'do not play' list as well – it's your day so it's what you want! Your list may include specific songs or entire types of music; the most commonly included do not play requests are usually:
Hard to dance to;

Outdated;

Overplayed;

O

r carry the wrong message.
Some brides prefer to leave line dances and cliché party songs out of the line-up, others may ask the DJ not to play any house or club tunes. Your 'do not play' list can include songs you hate, songs that may make your guests feel uncomfortable, or songs that make you cry – whatever tune that would make you cringe if you heard it at your reception!
Some DJs have created their own 'do not play' list for weddings, based on the preferences of other brides. There are also a few that allow you to create your play list and do not play list online, choosing from a selection of available tracks. It's best to ask your DJ about these options early so that you'll have plenty of time to get your list together.
Top 10 'Do Not Play' Wedding Songs
The Macarena – along with all those other cheesy organized dance songs (Electric Slide, Chicken Dance, YMCA, Hokey Pokey, etc.).
Celebration
White Wedding
Lips of an Angel by Hinder – and other cheating, breakup, or death-related songs, including Jesse's Girl, Tears in Heaven, and I Will Survive.
The Humpty Dance
Love Shack
Brick House
Who Let the Dogs Out
Hot, Hot, Hot
Tainted Love – or any 'bad' love song.
The music will have a big influence on the mood of your reception, as well as your guests' memories of your special day. Get started on your 'do not play' list now so nothing is overlooked!