As you weigh the pros and cons of what type of wedding ceremony to pursue for your nuptials, don't forget to include the cultural, religious, and financial aspects that could make or break your final decision. For instance, will you have enough time to plan the wedding of your dreams or will outside factors force you to speed up the process? Will conflicting religions make your wedding ceremony difficult to please family and friends? What personal preferences will influence the planning of your wedding ceremony?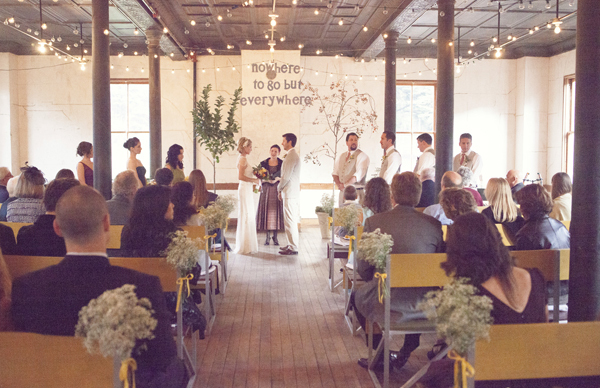 Photo by Sequins and Candy
With that being said, let's explore some of the most common types of wedding ceremonies, listed below: 
1) Religious
One of the most common ways that couples choose to exchange vows is within a church or other religious gathering place that involves a priest, minister, or rabbi.
2) Civil Union
This type of wedding ceremony takes place outside of a church, where an appointed person of the State conducts your marriage, such as a Justice of the Peace, judge, or a hired 'Marriage Commissionaire.' Contrary to popular belief, this type of wedding ceremony is not always a small affair or confined to a courtroom. Some civil wedding ceremonies are large and formal, as well as held both indoors and outside.  
3) Military

All images by Todd Rafalovich
Couples who are in the military or have previously served may be entitled to a full military wedding ceremony, which often takes place within a military chapel. Proper uniforms are worn – dark in the wintertime and white in the summer. Other features of this kind of wedding ceremony include carrying a sword or walking through an "arch of swords."  
4) Non-Traditional
Some brides choose to blend various features of both a religious and non-traditional wedding ceremony. Often times, a blending of cultures takes place. Perhaps, the setting for the wedding ceremony is out-of-the-ordinary, like a beach or international landmark.
5) Very Formal
This type of wedding ceremony is usually held in a church, temple, synagogue, country club, or ritzy hotel. Guest lists oftentimes reach around 200 or so family and friends. Between four to 12 groomsmen and bridesmaids are called upon to lend a hand with an assortment of flower girls and ring bearers. Additional features include elaborate décor, limousine transport, and elegant gowns.
When planning your wedding ceremony, there are a lot of other options to consider. Don't forget the semi-formal approach. An informal wedding gives room for leniency. Perhaps you'd like to share the celebration with your best friend or sister and plan a double wedding ceremony, which also helps to cut costs. Candlelight ceremonies are perfect for the holidays, while a more laidback ceremony can take place in the great outdoors, beautiful garden, or right in your own (or parent's) backyard.