The wedding cake may be the star of your reception, but it shouldn't cost more than your honeymoon!  When you're figuring cake costs into your budget, don't forget extra charges such as delivery, setup, and cutting fees.  Cake cutting fees are one of the most commonly overlooked expenses in wedding planning - be prepared and don't let these hidden fees break your piggy bank!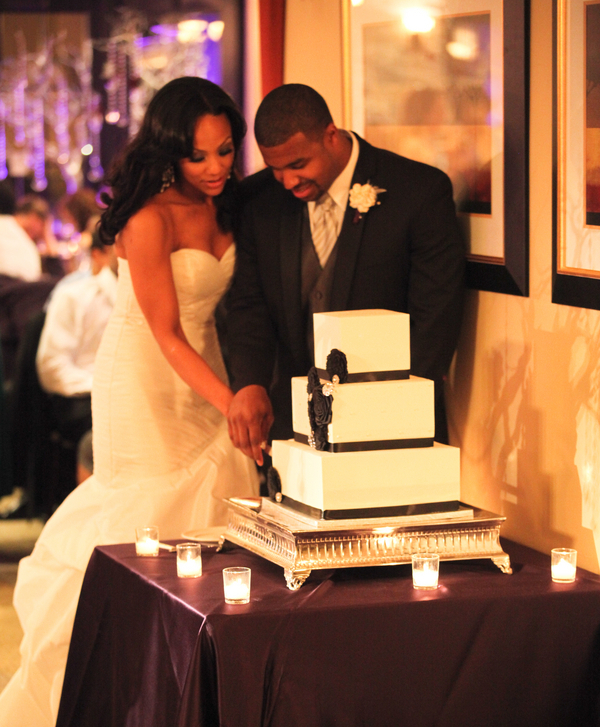 Photo by JC Page Photography
What are Cake Cutting Costs?
Unless you're ordering your wedding cake as part of your catering or venue package, you'll probably be assessed an additional cake cutting fee based on the number of guests attending your event.  Caterers and reception halls typically charge these fees to cover the costs of plates and flatware, but the costs can sometimes be a bit ridiculous - I've seen a few locations charge as much as $3 per slice. 
Tips for Reducing or Avoiding Cake Cutting Fees
Even at a cost of $1 per guest, that's an extra $200 for an attendance of 200 loved ones!  That can make a big difference in your wedding budget.  Thankfully, there are a few things you can do to negotiate a decreased rate or eliminate the cost of cutting the cake completely.
Perhaps the most obvious way to avoid a cake cutting charge is to order the cake from your caterer or reception venue's baker.  Carefully compare the cost, the options, and the quality of the cake before going this route.
Wedding cupcakes are becoming a popular option for serving guests.  Some caterers still charge an extra fee for cupcakes, but you can usually discuss it and bypass or reduce the costs.
Negotiate and be persistent.  You're already paying a pretty penny for your reception - don't be afraid to ask your caterer for a discount or discuss other upgrades you could make to avoid a cutting charge.  
Don't let the cost of cutting your cake detract from the rest of your wedding.  Be firm when you speak with your caterer and don't give up too easily.  Some vendors will waive the fee if you agree to pass along their name to your bride-to-be friends; others will gladly negotiate the price to keep your business.  Look into cake cutting costs at your venue early so you can make necessary adjustments if needed.