If you will have a beautiful little flower girl and a dapper young ring bearer in your wedding, they will certainly become one of the highlights of the ceremony!  If you prepare your little helpers correctly and ensure that they know their roles, they will be more confident and ready to walk down the aisle before you.  Here are some tips and important information on flower girl and ring bearer roles which will help you prepare the youngest members of your wedding party?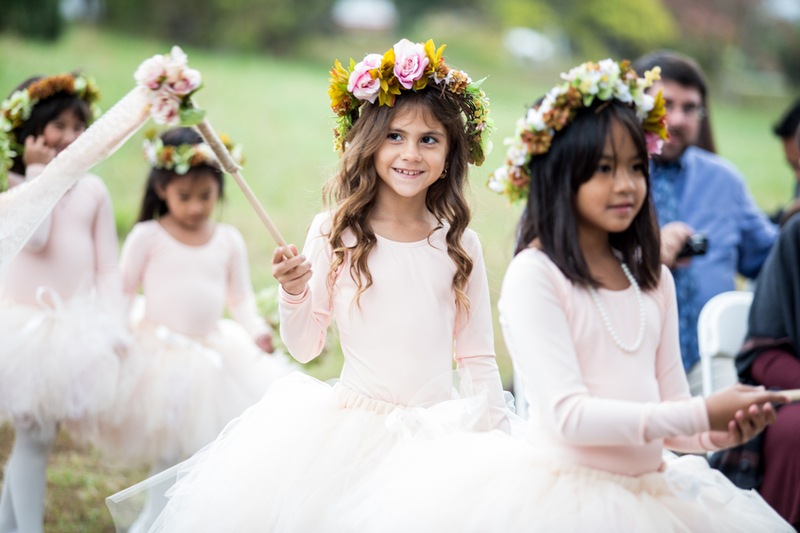 Photo by April B. Photography
Choosing Your Flower Girl and Ring Bearers 
Keep in mind that the younger your flower girl and ring bearer is, the higher the risk of a crisis. Young kids are frightened easily and may decide at the last minute that they are not walking down the aisle, they need to go to the bathroom or they'd rather watch a video.  If possible, choose slightly older children to act as the ring bearer and flower girl, so they will better understand their roles and will not be as afraid.
Flower Girl 
The flower girl follows the last bridesmaid, carrying a basket of flower petals to scatter across the aisle.  She is usually a girl with a special connection to the bride and groom - whether related or family friend, and is usually between the ages of 4 and 10. 
Typically, flower girls wear beautiful dresses - either small versions of the bridesmaid dresses or the wedding dress.  Typically, brides have the flower girl wear a ring of flowers in her hair or a tiny tiara.  After walking down the aisle, your flower girl will take her seat to watch the rest of the wedding.    
Ring Bearer 
Your little ring bearer comes behind the flower girl, carrying a pillow with the wedding rings tied to it.  He is usually related to the bride and groom or the son of close family friends.  The ring bearer is also usually between the ages of 4 and 10.
Many brides prefer that their ring bearer wear little versions of the groom's tuxedo, but you can have your ring bearer wear whatever you want.  From slacks and a little velvet jacket to suits which match the groomsmen - he's sure to look absolutely adorable no matter what you put him in!  Your ring bearer can either stand next to the groomsmen or be seated with his family depending upon his age. 
Tips for Your Ring Bearer and Flower Girl 
If the ring bearer and flower girl are prone to restlessness, have them sit with their families rather than standing for the wedding. You can even provide them with a coloring book or something else to keep them occupied for the wedding. 
If your ring bearer is fairly young, you may want to put fake rings on the pillow and have your best man hold the real rings.  Also, if needed, have the parents bring a change of clothing - most young boys don't want to stay in stiff clothing for too long!
By preparing your ring bearer and flower girl for their roles, you can ensure that the wedding goes smoothly and that they understand what they're supposed to do during the ceremony.