You've finally decided on your dress, the colors are finalized, and the bridesmaids' gowns are at last agreed upon - if you haven't already, it's time to order the tuxedo for your groom.  You don't want to wait until too close to the wedding to make arrangements for the male side of the bridal party, especially if you have a large party or have set your date for summer like many other couples.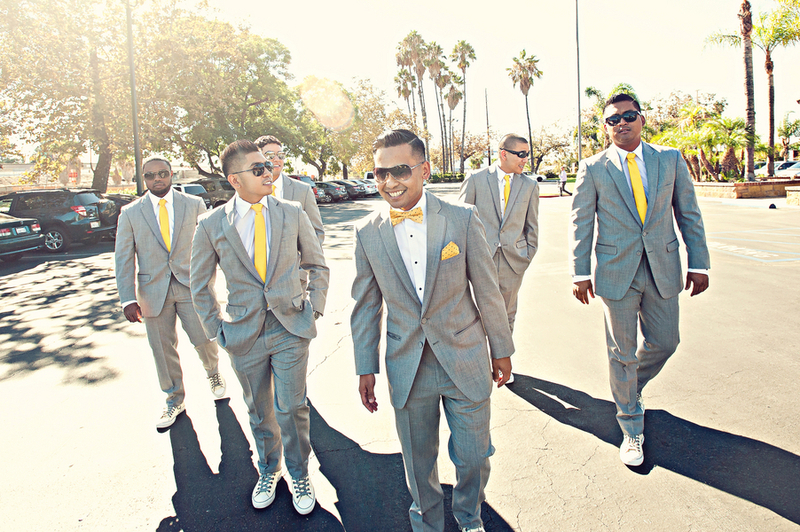 Photo by Melvin Gilbert Photography, Groom's Attire by Friar Tux
Choosing a Tuxedo Store
Compare prices and general availability at several tuxedo stores in your area.  Ask if there are any discounts available - many offer a free rental for the groom with 3 or 4 other rentals and some will include shoe rental with the tux for no additional charge.  If you have out-of-town attendants that will be arriving just before the ceremony, you'll need to choose a store with locations that are convenient to them as well.
Who Should Wear a Tux and Who Should Pay?
Outfitting the groom's side of the bridal party has traditionally been an expense covered by the groom's family.  Most of the time, the groomsmen and fathers will pay for their own rentals although the groom usually takes care of the best man's tux and everyone's shoes if they're not included. 
Of course, your husband-to-be will need his tuxedo, and so will the best man and the ring bearer.  Unless the wedding is a casual affair, the groomsmen and the father-of-the-bride typically wear tuxedos too.  Your fiancé's dad isn't required to wear a tux but I would recommend giving it careful consideration if you're planning family photographs that include both fathers.
A Few More Tips
Schedule a fitting now and decide on a tuxedo style.
Arrange for other members to be fitted and send out measurement cards if needed.
Be prepared to pay a deposit when the order is finalized.
Everyone should pick up their rental at least 2 or 3 days before the wedding.
Remind each one to try their tuxedo on before leaving the store to catch any last minute alterations.
The tuxedos usually need to be returned the following day.  The best man will generally return your new husband's rental while you're enjoying your honeymoon.