Sparkling champagne, laughter, smiles, and well wishes from your family and friends make your wedding reception perfect.  Wedding toasts and speeches are an important part of your special day and often become some of your most cherished wedding memories.  Whether you want to stick with tradition or plan to personalize your wedding toasts, your bridal party will appreciate your guidance when it comes to timing, participants, and speech guidelines.
Wedding Receptions: A Toast to Tradition
According to tradition, the best man is ultimately responsible for the wedding reception toasts.  He, your dad, and your new husband are the primary speakers and the best man is in charge of getting things started.  You and your groom-to-be should decide when you would like the toasting to begin and then discuss it with the best man.  During the reception, he will tap his glass and stand before giving his speech and toasting you and your new spouse.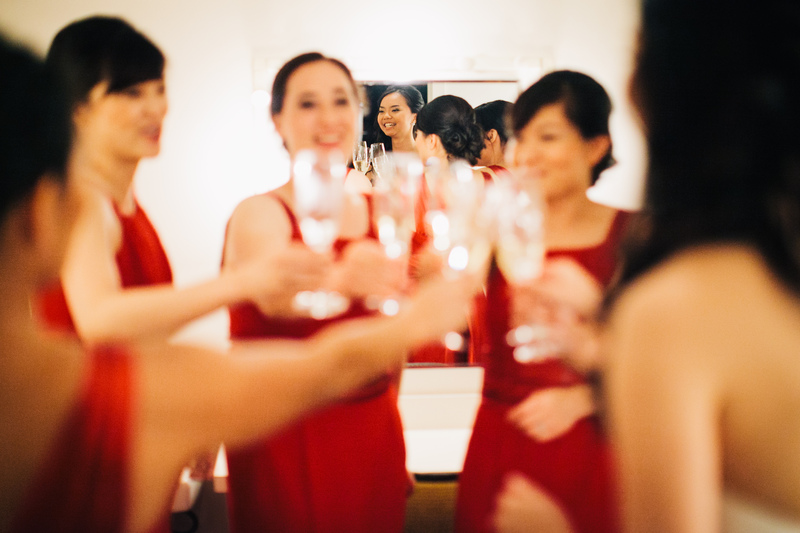 Photo by Jerry Yoon Photography
Your new husband is typically next in line, thanking his best man and your parents as well as the guests.  Your dad should traditionally respond by also thanking the guests and proposing a toast to his new son-in-law, wishing you both happiness throughout your life together.  Other guests may offer their own wishes after your father speaks. 
Wedding Reception Toasts: A Contemporary Approach
You don't have to follow the traditional sequence of wedding toasts!  It's not at all uncommon for the maid of honor to speak after the best man makes his toast or for you to make a toast after your new husband.  Some couples decide to have an emcee oversee the toasting events and others choose to start things with a welcome toast from the hosts, whether that's the newlywed couple or the bride's parents.  I've even been to a few weddings that completely skipped the tradition of toasting. 
Toasting Tips
Give some advance notice to your parents and bridal party if you would like them to prepare toasts. 
It's okay to suggest a few guidelines, like asking speakers to keep their toasts within 3 minutes or to remind them to avoid off-color jokes for the sake of children attending the reception. 
Champagne is not a necessity.  Serving champagne can be a real budget-buster - especially for large events.  Instead of opting for a cheap selection, substitute with an elegant wine or a sparkling champagne punch.
Remember that not everyone feels comfortable speaking in front of others.  The best advice for delivering a wedding reception toast is to be yourself, speak slowly, and keep it simple!