A New Years Eve BASH!  
Source your work, please :)
GOT to have a sparkler wedding cake
oh lots of glitter! i would do like gold or silver glitter bridesmaid dresses or shoes!
MUST TAKE sparkler shot (theknot.com)
Bubbly Cake! http://www.capemay.com/weddings/rb_anita.html
i actually attended a midnight new years eve wedding last year..it was sooo pretty!
Bubble cake, CHRIS that's AWESOME!
Hats and silly stuff for EVERY guest
maybe some masks?
I would do metallic everything!
Kick A$$ Fireworks to welcome in the New Year
triedandtrueweddings.com
I love doing platinum and gold together
and LOTS of bling 
I LOVE this blue dress on the LEFT for a unique wedding like this - or for the reception!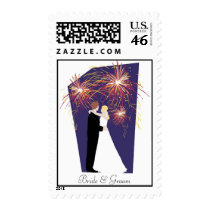 Stamps from zazzle.com
Great ideas, my wedding is NYE - woooo!
Ooooh nice Eesmerelda!  Post some of your NYE stuff in this thread! ! !! 
Ok!   I'm not really doing anything too NYE -ish in terms of decor.  I wanted to have a vintage-glam kind of look to it, not too much like just a NYE party.  Everything will have lots of sparkle though!
Escort cards on champagne corks:
With diamond confetti everywhere (but in a gold/champagne color):
Centerpiece inspiration, baby's breath will be spray painted gold/sparkle:
Lots of candles and rose petals everywhere:
And we are definitely doing the NYE party favors at midnight!
WOWOWOWO Esmerelda that is going to be GORGEOUS
Thanks!