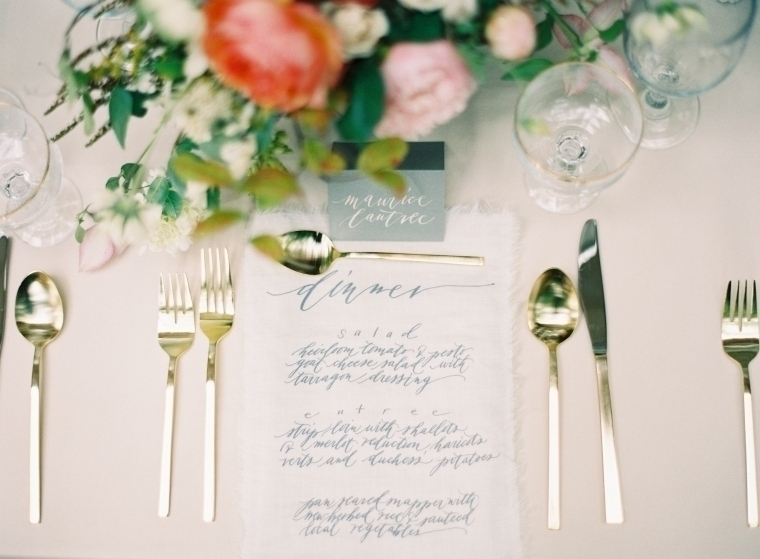 Photo by Rylee Hitchner
Of course, your guests are super-excited to share in your joy, participate in your romantic ceremony, and celebrate with you all night long. But there's one important part of your wedding that they're almost just as psyched for – the food! So it's important to make sure that your food is both delicious and plentiful. And why not put a creative spin on the standard wedding cuisine? Here are a few of our favorite wedding food trends for you to consider for your own menu :
Food Trucks These mobile eateries are a huge trend around the country, so why not hire one – or several – for your wedding day celebration? Surprise your guests with a food truck as they're exiting the ceremony, or create a mini food court of several food trucks during cocktail hour!
Brunch! Morning weddings can be a foodie's paradise. Think classic favorites like omelets, crepes, and mimosas.
You Name It! Add a personal touch to your menu items by naming dishes after yourself, your partner, and your family and wedding party members. If there's a specific drink or menu item that someone close to you loves, share it. Some examples: Grandma Molly's mint juleps, Melissa's Favorite Macaroni and Cheese, etc.
Family Style Fare Serving dinner family style (meaning: a large platter of food is served to each table, and everyone passes the dish around to share), is a great way to get your guests to mix and mingle – and it can also be a good money-saving serving style.
Mason Jars Clearly, mason jars are a popular décor item, but they're also a great vessel for drinks and food! Serve signature cocktails, desserts, even salads in mason jars for a unique treat!  
Unique Desserts We recommend having a wedding cake for tradition's sake, but it's always fun to add other desserts to the spread. Of course, cupcakes are perennials favorites, but what about cookies, pies, French macarons, whoopee pies, cake pops, or creative popsicles? Yum!
Interactive Food Stations If you're the DIY type, why not extend that style to your menu? Have your caterer set up food stations where guests can create their own foods – think make-your-own tacos, stir fry, sundaes, and more!
Tasting Menus If yours will be a wedding full of foodies, offer your guests a tasting menu full of delicious small bites. You'll need to make this a multi-course affair full of small but satisfying favorites, but your guests will enjoy sampling lots of delicious items.
Seasonal Favorites Think about the season when it comes to creating your menu. For fall, offer your guests hot cider and apple doughnuts. In the winter, serve peppermint hot chocolate in to-go cups to keep everyone warm and cozy. Edible flowers can be used to highlight springtime fare, and in the summer, we love lots of fresh seafood and cold lemonade!
Late Night Snacks Your guests will work up an appetite after a night full of dancing. Pass savory or sweet easy to eat favorites to your hungry partiers – think sliders, tacos, French fries, root beer floats – even a s'mores station!