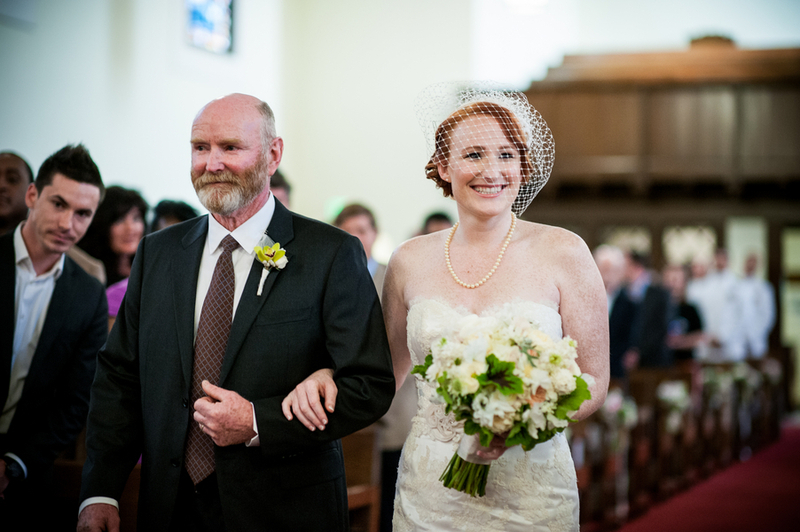 Photo by Viera Photographics
It's the big moment – your walk down the aisle. Whether you love it or not, all eyes will be on you, so it's important to plan ahead and make sure your processional goes smoothly. Follow our simple tips to ensure a memorable processional (for the right reasons!).
Practice Makes Perfect It's essential to do a run-through of the ceremony beforehand. Usually, this occurs before the rehearsal dinner, but some couples choose to hold a cram session on the wedding day before guests arrive. Either way, gather your wedding party, family members, and your officiant to practice the order of the processional and recessional, as well as where everyone should stand or sit during the ceremony.
Order, Order While you can switch things up based on your religious or cultural traditions, family structure or your preference, this is the traditional order of the processional:
Officiant
Mother of the Bride
Groomsmen (The groomsmen can also serve as escorts for the bridesmaids. The best man should be last).
Groom (Sometimes the groom doesn't walk down the aisle, but emerges through a back or side entrance so he can immediately stand at the altar.)
Bridesmaids (maid of honor is last)
Ring bearer and/or flower girl
Bride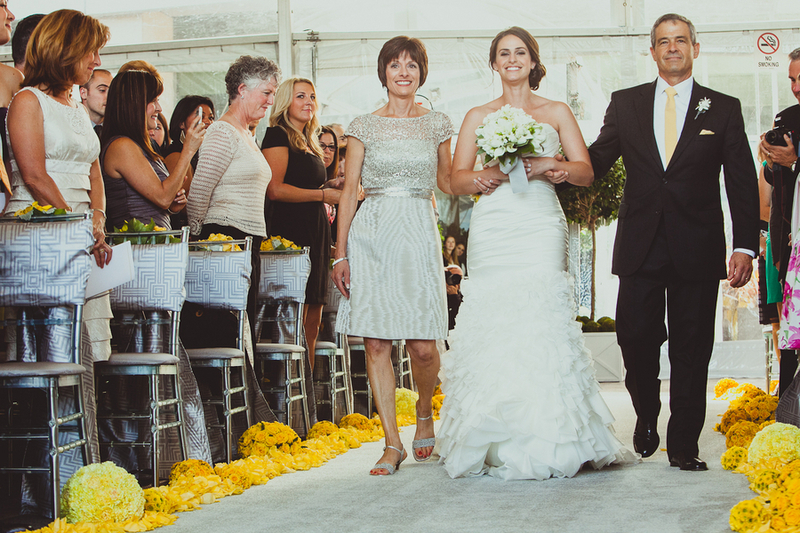 Photo by IQPhoto Studio
Assign a Stage Manager Whether it's a wedding planner, family member, or friend, make sure you assign someone to cue the ceremony music and then signal for each person to walk down the aisle. The "stage manager" should wait until the wedding party member has taken his or her place at the altar before cueing the next person to begin his/her walk.
Walk This Way We've all seen Father of the Bride and know the whole "left together, right together" routine – but that's a pretty old-school technique. Encourage your wedding party to walk normally, just a teeny bit slower than usual so it doesn't look like you're racing down the aisle. Your stage manager should emphasize this point before each wedding party member starts to walk.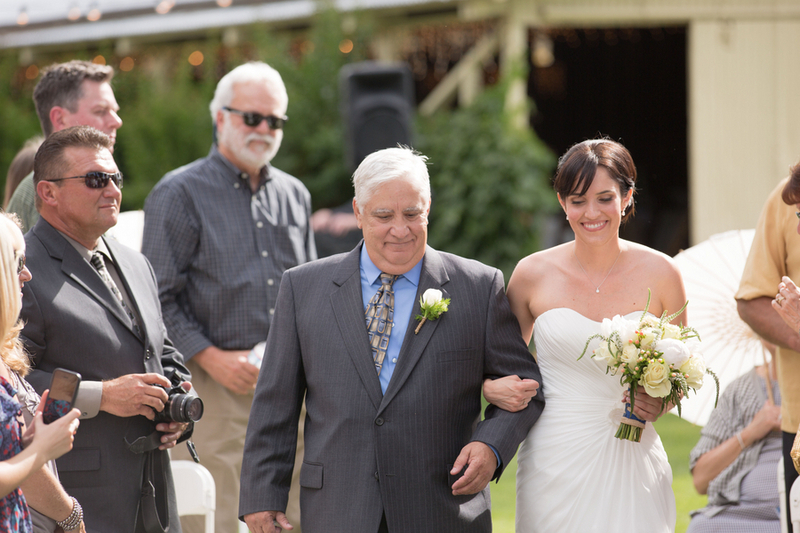 Photo by Retrospect Images
Keep The Path Simple Sure, it may look really cool to enter your ceremony from the top of a grand staircase, over a narrow bridge, or down a cobblestone path, but consider your dress, your shoes – and your sanity. Try to keep your aisle as straightforward and simple as possible to avoid every bride's worst nightmare – tripping and falling. If your ceremony site does have a tricky aisle setup, be sure to practice (in your dress and shoes!) beforehand.
Your Escort, Your Choice The tradition is for a bride to walk down the aisle with her father. However, you don't have to do it this way. Depending on your family structure, you can walk down the aisle with just your mother, both parents, a grandparent, sibling or other close relative, alone, or even with your soon-to-be spouse. If you've been raised by several people (stepparents, etc.), you can have one person escort you partway down the aisle, and another bring you the rest of the way.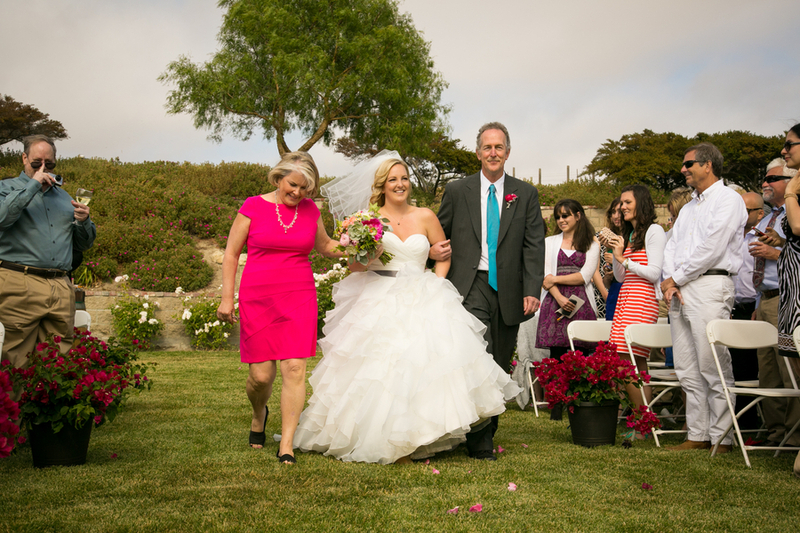 Photo by A Blake Photography
Pick the Right Songs Of course, there are some classics (Pachelbel's Canon in D, anyone?), but there are a wide variety of both traditional and contemporary songs that would work for a processional. Just make sure that the tempo isn't too fast or too slow – try walking to the beat of the music to make sure it has the right rhythm. Instrumental versions of songs usually work best, but if a song has lyrics, listen to them carefully to make sure they are, ahem, wedding-appropriate.   
Change the Mood After the flower girl and ring bearer have walked down the aisle, take a few-seconds long pause before you begin your processional to add a bit of suspense (your guests are excited to see you!). And be sure to change the music – you should walk down the aisle to a different song than your wedding party members.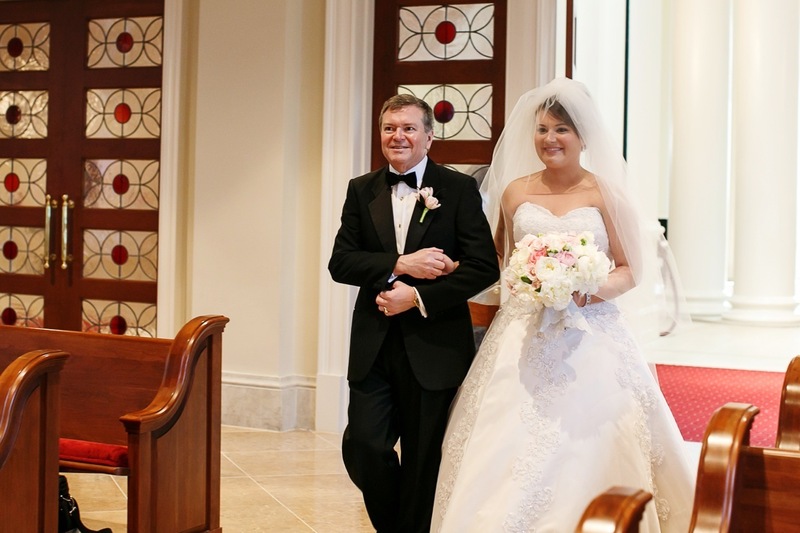 Photo by Nadia D Photography
Take It All In Many brides focus squarely on their grooms during the processional, but try to glance at your guests as you walk down the aisle. This is one of the only opportunities you'll have to gather all of your nearest and dearest in one place, so take mental pictures to remember this important moment.
Relax Try your best to smile and stay cool and calm while you walk. Many brides tense up their shoulders and hold their bouquets too high, almost blocking their face – so relax your shoulders and arms and hold your bouquet low.